How Yield Exchange Turned Vision into Reality Through the Venture Acceleration Program
You could make a compelling case that no company has gotten more out of New Ventures BC's programs, services, and resources than Vancouver's Yield Exchange. 
The fintech startup has taken part in NVBC's Distance Venture Accelerator Program (VAP), Discovery Foundation Sales & Marketing Accelerator Program, and the 2022 New Ventures BC Competition, presented by Innovate BC. All three programs helped Yield Exchange accelerate their growth, leading to new customers, team members, and revenue streams. 
Founded in 2019, Yield Exchange operates as a digital marketplace for fixed-income investments. Their platform connects borrowers — typically corporations and governments — with individual and institutional lenders seeking to invest in fixed-income securities. By streamlining this process, Yield Exchange is able to facilitate efficient and transparent transactions in the fixed-income market.
Yield Exchange caught the attention of the tech community — both locally and abroad — during last year's competition, where they finished in the Top 11 and their CEO, Yvette Wu, took home the $10,000 Innovate BC Women-Led Venture Award. The momentum continued into 2023, where they raised $700K in an oversubscribed pre-seed round, which included $100K for winning The Firehood's Pitch Competition at SAAS NORTH 2022. 
We sat down with Sampath Ekanayake, Chief Product Officer and Co-Founder at Yield Exchange, to learn more about the startup's experience going through the Distance Venture Acceleration Program and how they're tapping into BC's supportive startup community to gain new insights and partners.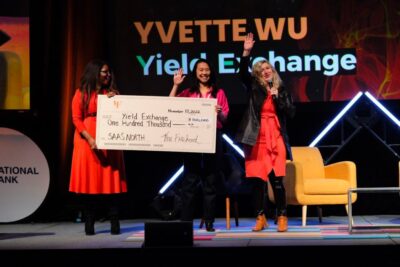 Yield Exchange's Venture Accelerator Experience
Sampath immigrated to Canada in 2012 and brought with him over eight years of experience in the banking industry. While at Vancity Credit Union, Sampath met his eventual co-founders, Yvette Wu and Ravi Sumal, and the trio embarked on their journey to create Yield Exchange. The fintech startup quickly joined New Ventures BC's Distance Venture Acceleration Program (VAP) to access support and resources to help turn their vision into a reality. The VAP was an ideal fit for the team, as they all had full-time jobs at the time and required the flexibility the VAP offered. 
Before joining the program, they lacked a clear starting point. By going through the discovery process, they gained valuable templates and insights, which proved instrumental in validating the company's potential. The program helped narrow down Yield Exchange's focus and opened up crucial relationships, including one with the City of Burnaby to test their first wireframe prototype in 2020.
Beth Gallup, Yield Exchange's mentor, proved invaluable by offering expertise and guidance, drawing from her experiences navigating market fluctuations. Through discussions about future possibilities, she ensured that Yield Exchange stayed on track and focused on building the platform, prioritizing client onboarding after laying a solid foundation.
Using the VAP to Accelerate Their Growth
Soon after completing the VAP, Yield Exchange successfully outsourced developers from countries like India, Pakistan, Nigeria, and Kenya, while onboarding new clients to establish their presence and growth in the fixed-income investment marketplace. 
The fintech startup quickly began to hit significant milestones, including facilitating negotiations worth $120 million in just 12 months and securing $700,000 through an oversubscribed pre-seed round. 
Yield Exchange has ambitions to grow significantly in the coming years, targeting $2 billion worth of transactions this year. They also plan on expanding operations in both BC and Alberta, hoping to reach a broader market in Western Canada. 
Accessing Advice and Community Connection
One of the best pieces of advice Yield Exchange received during their time in the VAP was to emphasize the importance of requesting written agreements from clients as they scale. This practice helps ensure commitment from potential clients before investing resources in developing specialized products for them. The mentors warned against naivety in assuming client commitment and highlighted that demanding clients — particularly those from larger cities — present some of the most significant challenges in their growth journey.
Yield Exchange places significant value on connecting with other founders in the startup culture, recognizing the importance of sharing lessons and stories. The VAP gave them a unique opportunity to engage with fellow entrepreneurs, gain valuable insights, and navigate challenges more effectively. This collaborative approach fosters a supportive community where knowledge exchange and networking contribute to the overall growth and success of all the companies involved.
Interested in learning more about the Distance Venture Acceleration Program? Find out how you can access mentorship to build your business, from wherever you are in BC.