Where Are They Now: MintList
Nearly two years ago, MintList cemented their place as one of the province's top startups by winning the 2021 New Ventures BC Competition, presented by Innovate BC. Since then, it's been a steady stream of milestones, victories, and funding that's propelled MintList to the top of their industry. 
The Vancouver startup's safe and easy car selling and buying platform has earned rave reviews from customers, dealers, and funders. They're continually adding new car dealers across the country and their 98% dealer retention rate is validation that MintList is redefining the car buying experience. The company's continually earning accolades locally and abroad, including being named "Car Buying App of the Year" by AutoTech Breakthrough and becoming the first Canadian company to win Tech Startup of the Year (Software) at the Stevie Awards.  
We sat down with MintList Co-Founder and COO, Mehrsa Raeiszadeh, who took us through the company's whirlwind last couple of years and offered up some competition-winning advice for this year's startups.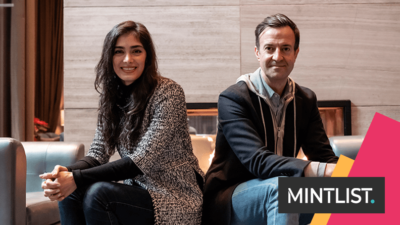 MintList Co-founders: Mehrsa Raeiszadeh and Mike Wood
It's been nearly 21 months since you won the 2021 New Ventures BC Competition, presented by Innovate BC. What's MintList been up to during that time? 
Mehrsa: Over the past three years, we've achieved remarkable progress and milestones in the automotive industry.
In 2021, we prioritized securing strategic partnerships with key industry players like Industrial Alliance, RBC, Carfax, Advantage Parts, and Allwest Insurance. We also conducted beta testing with 60 dealer partners, capturing 7% market share among new car dealers in BC. To cap it off, we raised $2.1 million in a Seed Round — oversubscribed by 80% — and expanded our team to eight employees.
Last year marked a significant milestone as we officially launched MintList in British Columbia. We also filed a provisional patent application for our AI-driven technology, showcasing our commitment to innovation and protecting our intellectual property. Throughout the year, we experienced substantial growth, capturing 15% of new car dealers in BC and achieving a staggering 500% increase in revenue. This rapid growth helped us secure $1M in government support, which greatly supported our expansion efforts into Alberta and solidified our presence in Western Canada. 
As for this year, it's been more of the same as we continue our upward trajectory. We secured over $3 million in investment during a Seed+ Round, captured 25% of the new car dealer market in BC, and achieved a 98% dealer retention rate — emphasizing the value we bring to our partners. Our revenue experienced an extraordinary 900% growth. This continued growth helped us secure additional government funding, helping us push our employee count to more than 20 people.   
Tell us more about the oversubscribed seed round from October 2021. That came shortly after winning the competition and at a time of rapid growth for MintList. What was it like going through that process?
Mehrsa: It was an exhilarating journey! The raise allowed us to form strategic partnerships, attract the right team members, build our product, and launch it in the market. We were nominated for prestigious awards and competitions and received recognition from both the tech and auto industry for our disruptive solution. These successes were crucial to our growth, as they validated our business model and provided the necessary resources to help us scale. 
The support from investors who believed in our vision allowed us to fuel our expansion plans. Winning awards not only added legitimacy to our brand but also boosted our credibility with consumers, dealerships, government programs, and potential investors. Overall, the experience was transformative, propelling us closer to our goal of revolutionizing the automotive industry for dealerships and consumers.
"Buying a car is the second most expensive purchase most people ever make yet almost everyone has a bad story to tell around it."  
MintList CEO, Mike Wood, was quoted saying this back in 2022. How is MintList making the car purchasing experience better for both dealerships and consumers?
Mehrsa: Through our online marketplace, we provide the safest and easiest way for consumers to buy, sell and trade their car online. We connect consumers with hundreds of dealers to access an extensive selection of cars, guaranteed best trade-in values, and a seamless online experience.
Our primary objective is to ensure that consumers save money and feel confident throughout the car buying or selling process. We recognize that cars are one of the most significant assets for many individuals, yet a majority (76%) feel disadvantaged when dealing with traditional dealerships. Additionally, there is a prevalent sense of insecurity (86%) when using platforms like Craigslist and Auto Trader. MintList addresses these concerns by offering a transparent and secure environment that prioritizes consumer satisfaction and peace of mind.
For dealers, we connect them with customers who are closer to making a purchase, optimizing their sales funnel and increasing efficiency. With a low monthly fee, compared to traditional advertising costs of $25,000, dealers can save significantly while achieving tangible results.
What advice would you give to startups who are competing in this year's competition? 
Mehrsa: If you're entering the New Ventures BC competition (or any startup competition!) here are some key tips that helped us succeed:
Clearly define your value proposition and highlight what sets you apart from competitors

Craft a compelling, concise pitch that effectively communicates your idea, market opportunity, and competitive advantage

Seek mentorship and feedback from experienced advisors to refine your business model and strategy

Focus on differentiation and emphasize your unique selling points

Showcase traction and progress to demonstrate real-world validation

Anticipate and prepare for potential questions and objections
Good luck!
BC's tech ecosystem offers a wide variety of support systems — including funders, accelerators, mentors, community, etc.  — that contribute to a company's growth. Aside from New Ventures BC, what other local resources have you tapped into to grow your business?
Mehrsa: In addition to participating in the NVBC Competition, we've also been fortunate to tap into various local resources to support and facilitate our business growth.
Accelerators: We joined the entreprenuerhsip@UBC program, supported in part by Innovate BC, which provided us with access to valuable support, mentorship, and resources — including a spacious office space in the heart of downtown! This program helped us build a strong scalable foundation. We also graduated from the Creative Destruction Lab's SuperSession, where we received a $650,000 investment from key mentors.

Government Support Programs: Most of our employees have been supported by wage subsidies supported by Innovate BC. Also, NRC-IRAP has been a tremendous support in scaling our tech team and our R&D efforts. 

Strategic partnerships: We've formed strategic partnerships with key industry players with strong presence in BC such as Industrial Alliance, Carfax, and RBC. These partnerships have helped us to bridge the gap between the auto industry and technology, allowing us to leverage the expertise, resources, and networks of these established organizations.
What do the next 12 months look like for MintList? 
Mehrsa: We'll continue expanding across Canada and we're fully committed to enhancing our platform to deliver even more value to both consumers and dealers. With our proven track record — which includes capturing over 25% of new car dealers in BC, achieving a 96% closing ratio for dealer onboarding, and maintaining a 98% dealer retention rate — we are well-positioned for continued success in the months ahead.
Anything else you'd like to add?
Mehrsa: We would not be here today without the support of New Ventures BC, UBC, and Innovate BC. From the significant PR gain, the mentorship, the cash prize, and the thousands of dollars in wage subsidies, we're incredibly grateful to be part of this ecosystem and are proud to call ourselves a BC-based business!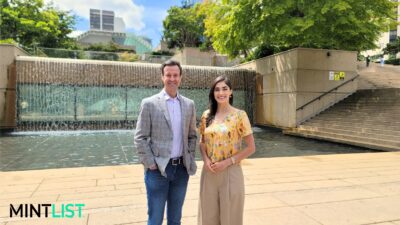 MintList Co-founders: Mike Wood and Mehrsa Raeiszadeh