Smart Business Card Company OVOU Wins 22nd Annual New Ventures BC Competition
Emerging startup OVOU wins Innovate BC first place prize of $110,000
Top 11 competition finalists, including renewable energy and biotechnology companies, competed for $250,000 in total cash and prizes to fuel growth
 Vancouver, BC, October 3, 2022 – OVOU, a company offering smart business cards helping professionals connect, won first prize at the 22nd annual New Ventures BC Competition, presented by Innovate BC. The competition brings together emerging BC startups who receive access to education, mentorship, and community while they compete for $250,000 available in cash and prizes.
By tapping an OVOU card on any smartphone, users can instantly share a curated professional profile and contact information, setting a new standard for networking and reducing paper waste. The OVOU team bootstrapped their way to profitability, and has seen impressive user adoption across organizations like the US Army Recruiting Operation, Insight Global, and RE/MAX among others. The platform currently facilitates over 4,000 new connections daily.
Beam Commerce, a platform designed to optimize eCommerce sales, took home the second place Innovate BC $60,000 prize package. In third place, VoxCell Bioinnovation received the Innovate BC $35,000 prize package for their innovative 3D bioprinting technology, designed to accelerate meaningful insights derived from clinical trials to help develop oncology drugs.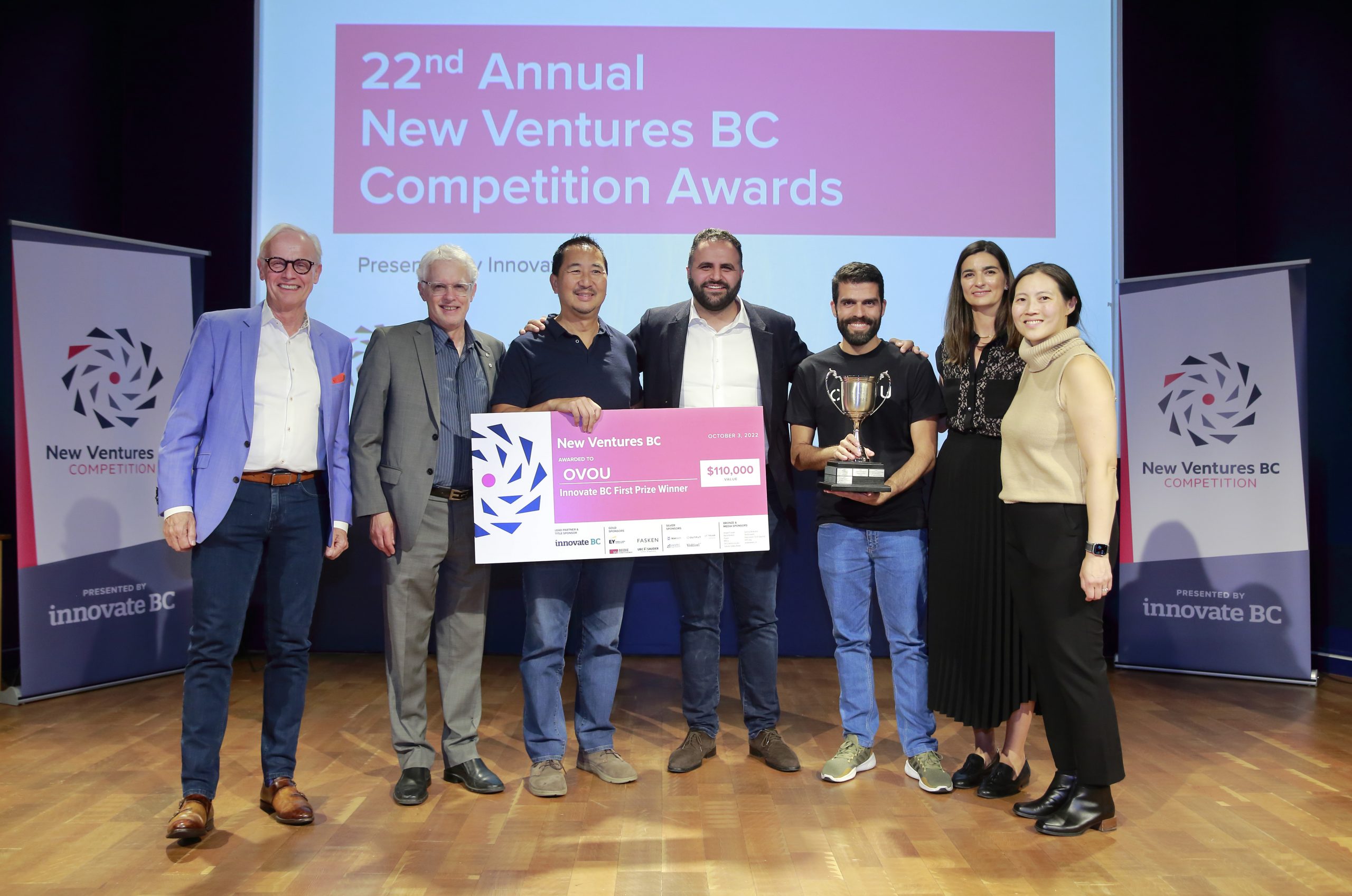 In addition to these top three prizes, five additional companies were recognized for their achievements across a range of categories:
Angie Schick, Executive Director at New Ventures BC
"Every year, it's inspiring to see the innovation and caliber of entrepreneurs take part in the competition. BC startups continue to play an important role in shaping the future of key sectors from renewable energy, to eCommerce and medtech, and we are looking forward to supporting each company in their journey."
Reza Varzidehkar, Founder & CEO of OVOU
"It's an honor to receive this award at the 2022 New Ventures BC Competition and be recognized for all of our achievements to date. We are very grateful for all of the guidance and support we've received, and look forward to using the winnings to accelerate our next stage of growth." 
Raghwa Gopal, President & CEO, Innovate BC
"We are proud to see such an outstanding group of entrepreneurs participate and compete in the New Ventures BC Competition presented by Innovate BC year after year. BC is home to a thriving group of entrepreneurs who continue to break new ground and positively impact the social, environmental, and economic climate in our communities. We're looking forward to following the continued contributions of these homegrown pioneers."
Ravi Kahlon, Minister of Jobs, Economic Recovery and Innovation
Helping BC's tech companies find talent and scale-up is key to supporting our fast-evolving economy and creating new opportunities for British Columbians," said Ravi Kahlon, Minister of Jobs, Economic Recovery and Innovation. "The New Ventures BC awards are an exciting way to recognize and celebrate the entrepreneurship and innovation that fuel our resilient tech sector."
For more information about the New Ventures BC Competition, go here.
New Ventures BC (NVBC) was initiated 22 years ago to help early stage tech startups grow. As a non-profit, they run the annual New Ventures BC Competition and a Venture Acceleration Program. To date the New Ventures BC Competition, presented by Innovate BC, has supported over 3,100 companies that have created 9,000 jobs, and raised over $1 billion in financing in BC.
Innovate BC helps foster innovation in B.C. so that British Columbians in all regions of the province can benefit from a thriving, sustainable, and inclusive innovation economy. A Crown Agency of British Columbia, Innovate BC funds and delivers programs that support the growth of the B.C. economy by helping companies start and scale, train talent that meets labour market needs, and encourage technology development, commercialization, and adoption.
Media Contact
Jamil A. Karim
jamil.karim@gmail.com
604.317.5786