Congratulations to Microdermics for taking first place in the 2016 BCIC-New Ventures BC Competition!
The BCIC-New Ventures BC Competition is the largest technology start-up competition in the province. After four rounds and many months of mentoring and pitching, the results are finally in!
Last night, we announced the winners of the 2016 competition. The awards ceremony was held at Venue in Vancouver, and also kicked off Vancouver Startup Week.
With the help of our lead partner and title sponsor, the BC Innovation Council (BCIC), over $300,000 in cash in prizes were awarded to eight of B.C.'s emerging tech ventures.
This year's top prize was awarded to Microdermics, a painless alternative to deliver vaccinations and therapeutics and monitor drugs in the bloodstream. Microdermics' proprietary, hollow metal microneedle injection system both eliminates the need for hypodermic needles, and improves the patient experience.
The top three ventures of 2016's competition
Microdermics came in first place, followed by Jane Software, an integrated medical clinic management tool to coordinate online bookings, bill, and store electronic patient's records, and Iris Automation, a collision avoidance system for industrial drone use.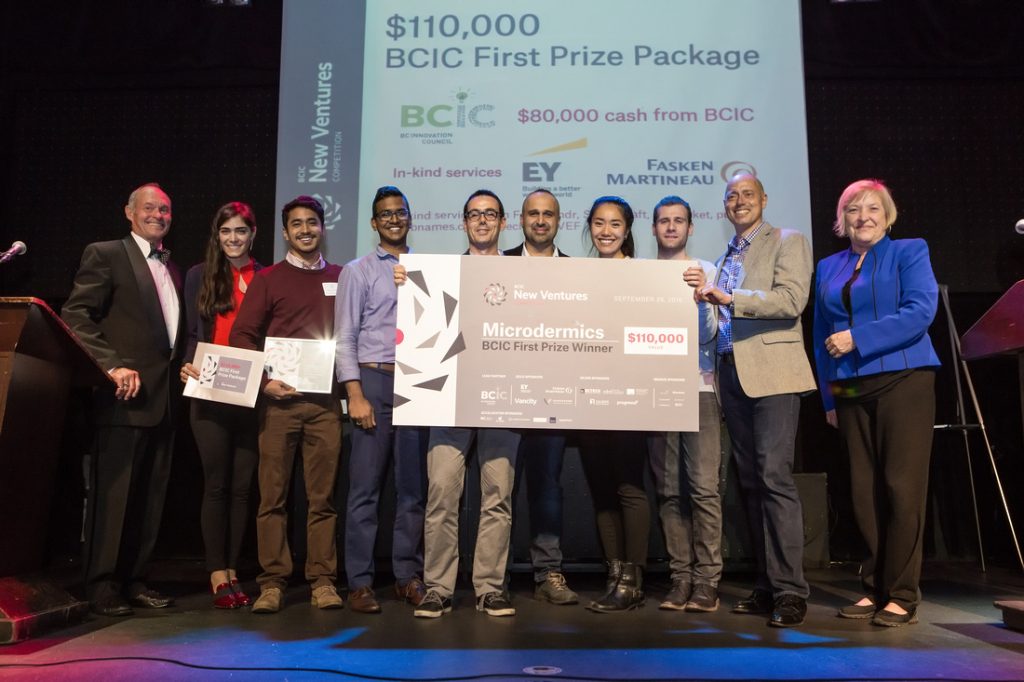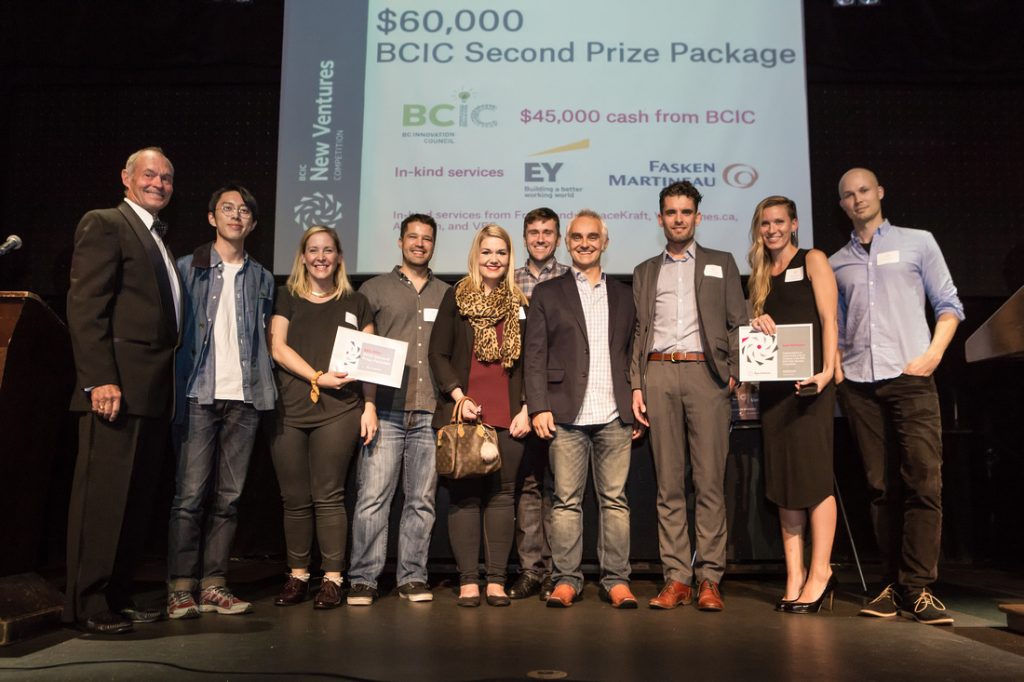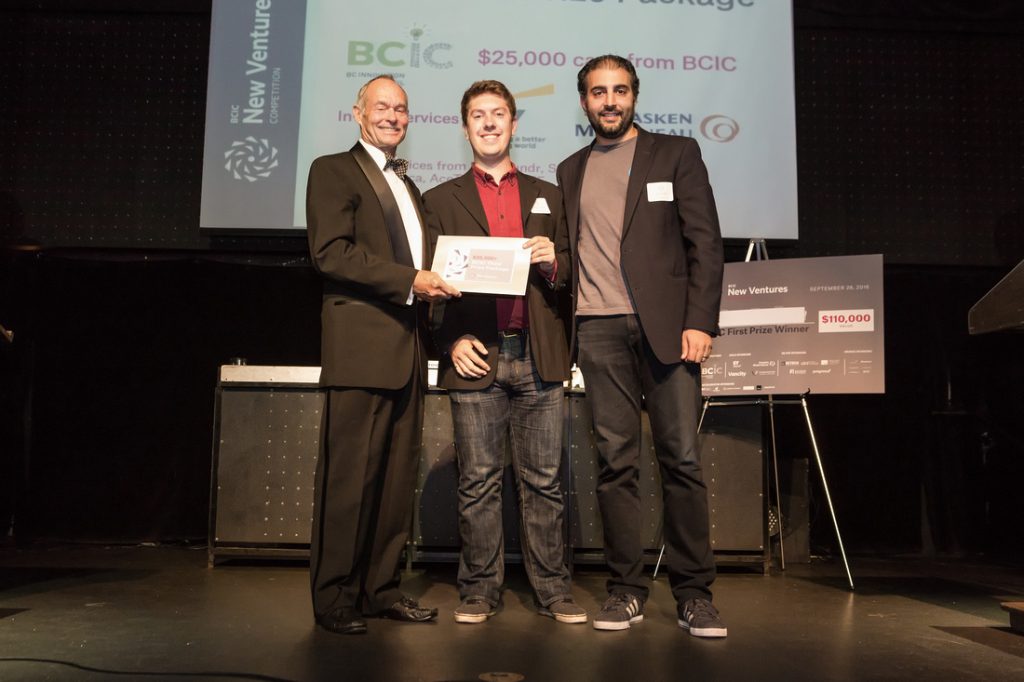 2016 BCIC-New Ventures Competition Winners:
$110,000+ BCIC first-prize package and CDRD Life Sciences in-kind prize: Microdermics
Microdermics is the painless solution for people who need to test their blood multiple times of day, or require medications and vaccinations. Their microneedle system could end people's fear of needles by revolutionizing the drug-injection method and non-invasively monitoring drugs in the bloodstream.  
$60,000+ BCIC second-prize package: Jane Software
Jane Software is a web-based software that not only handles online bookings, but allows a variety of clinics and practices to schedule, bill, and store electronic medical records for their clients. The integrated clinic management tool is used across Canada and is gaining recognition internationally.
$35,000+ BCIC third-prize package and $22,000 BC Resource Industry Prize: Iris Automation
After working at Matternet, NASA and Boeing, the masterminds behind Iris Automation are building an artificial intelligence system to make drones see, think and have situational awareness like humans do. The application for this robust collision avoidance system for industrial drones can be used for agricultural surveys, pipeline inspections, mining exploration, search and rescue and more.
$16,000 Vancity Social Venture prize package: Meatme.co
Meatme.co is an online marketplace for consumers to connect with local farmers for healthy and honest meat. They crowdfund whole animals, then work with local butchers and logistic partners to deliver meat straight to customers' doors.
$10,000 City Innovation Prize: Sensible Building Science
Sensible Building Science is a unique IoT solution that connects people to buildings. It makes building controls smarter by basing ventilation and heating decisions on the exact location of people, which saves energy, increases ventilation, and makes occupants more comfortable.
$10,000 BCIC Top Regional Start-up Prize: LlamaZOO
LlamaZOO's 3D e-learning platform makes studying anatomy easier and more accessible without canine cadavers. EasyAnatomy, their first product for vet students and educators, was selected as part of the exclusive first wave of Microsoft Hololens developers worldwide which put them at the forefront of the AR field.
BC Tech Innovation Hub Accelerator Program in-kind prize: VisualPing
VisualPing automates website checks and makes tracking website changes more efficient and convenient. Their service is used for everything from job seekers tracking job postings, to Taylor Swift fans awaiting tour dates, to businesses wishing to get alerted when a customer comment is posted in Yelp.
Wavefront™ Wireless in-kind prize and Plug and Play prize: CuePath Innovation
CuePath Innovation's smart, disposable medication packaging and mobile system enables families and caregivers to remotely track medication intake of elderly patients throughout the day.
B.C. Tech: driving our economy, changing the world
"My goal is to see more B.C. tech companies developing, employing more British Columbians and driving our economy," said Amir Virk, Minister of Technology, Innovation and Citizens' Services. "We developed the #BCTECH Strategy to cultivate capital, talent and access to markets for B.C. tech companies to grow and succeed."
"BC Innovation Council is thrilled to be awarding cash prizes to the Competition's winners," says Shirley Vickers, President & CEO of the BC Innovation Council. "We provide funding and mentorship to support the commercialization of BC technology that will change the world."
"We've seen the caliber of our early-stage competitors increase, tied to the support of our ever-expanding ecosystem," said Angie Schick, Program Manager for New Ventures BC. "The level of sophistication and innovation is reflective of the rate BC's tech landscape is evolving to be bigger, better and more talented."
About the BCIC-New Ventures Competition
New Ventures BC is passionate about helping early stage tech companies grow their businesses. Now in its 16th year, the BCIC-New Ventures Competition is the largest and longest-running tech competition in British Columbia, and continually highlights up-and-coming provincial technology startups.
During the competition process, startups benefit from mentorship, guidance, and support from angel investors and noted local entrepreneurs.
Our competition's alumni have often been recognized as fast-growing BC companies on track for significant venture capital investment or acquisition. We have supported more than 2,000 entrepreneurs, and has been a strong contributor to BC's tech economy. To date, alumni companies have generated 3,300 jobs and raised more than $300-million in financing.
Thinking about joining next year? The competition typically runs from April – September. Check our website in March 2017 for details on how to register your early stage venture.