Visualping makes sure its users never miss something important. The platform has 340,000 subscribers and is growing at a pace of 20,000 new sign ups per month. Its users select a crop area on any website and then receive an email alert when this area changes.
Visualping's service is used for everything from job seekers tracking job postings, to Taylor Swift fans awaiting tour dates, to businesses wishing to get alerted when a customer comment is posted in Yelp!
Modernizing the website alerts market
RSS feeds and Google alerts are currently used by close to 400 million people. However, Visualping's co-founders recognized that alerts cannot let a user know when something specific has changed, such as the price drop of a black Adidas sneaker size 8 at Foot Locker or a request for proposal for the construction of a new bridge posted in the City of London's website.
Thousands of business and consumer use cases
Visualping is mainly used by consumers, who track everything from lawn mower prices at Home Depot to the availability of a brown mahogany flooring at Build Direct. The service operates under a freemium model where only a small portion of its most intensive users upgrade to a premium subscription.
Corporate customers represent a smaller portion of Visualping's users but they are the most profitable ones. It is used by many large companies, including Google, Facebook, Apple, the US Department of Justice, Sequoia Capital, and the New York Times.
'Track me with Visualping' widget
The company is currently working on a widget, 'Track me with Visualping', which website owners can install so that visitors can be updated with their changes. The widget will be akin to 'Follow me on Twitter' and is targeted to replace the RSS feed button in millions of websites.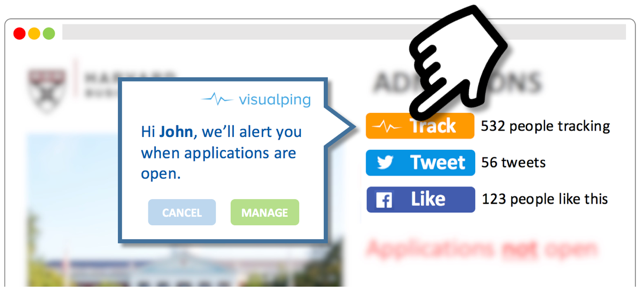 Another development underway is to follow the same business model as Google by monetizing the tracking data from its large, free user base to offer targeted advertising on the email alerts.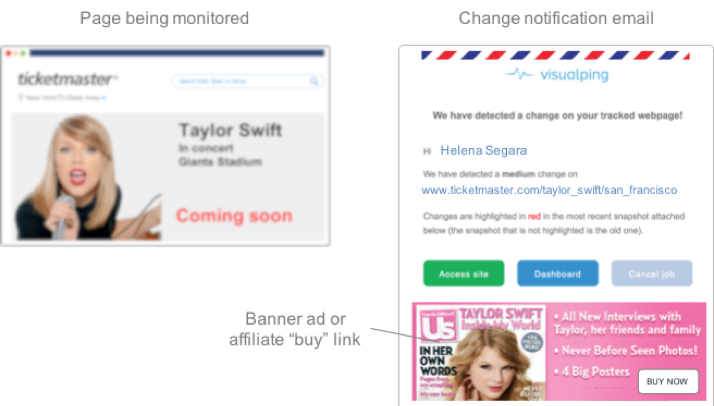 Meet Visualping's team

Serge Salager is Visualping's CEO. He was a former VC at a $1.5 billion fund who came to Vancouver when appointed as the CEO of a TSX technology company. Prior to co-founding Visualping, he was in marketing at Procter & Gamble and is a Harvard MBA.
Samuel Vincent is Visualping's CTO based in Vancouver. He worked for RewardLoop, Versapay and Metalab in the past.
Christian Merkel and Roger Dudler developed Visualping's unique visual-change recognition and are based in Switzerland. They also co-founded Frontify, a style guide platform for brands.
Max Shawabkeh worked for Google and it is based out of the US. He came to Visualping via the acquisition of Page Monitor, which later became Visualping's Chrome app that has been rated as 4 star app by more than 3,500 users.
Contact Visualping

Visualping is part of this year's Generator cohort.  Their offices are currently located at the Discovery Parks premises in Vancouver. Visualping was also a finalist at the BCTIA's Most Promising Start-up of the Year award and was elected Canada's representative at Harvard Business School's global venture competition.  

 /visualping

 /visualping.io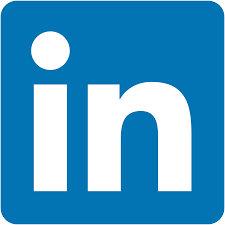 /visualping