Annually, our planet witnesses a staggering loss of around 26 million hectares of trees. The urgency for reforestation has never been greater, yet the predominant method remains manual planting — a labour-intensive and challenging process with restricted reach. In response, Flash Forest emerged with a resolute mission: to expedite global reforestation efforts and decisively tilt the balance in the ongoing battle against climate change.
Trees are crucial in combating climate change because they provide a home for diverse life, support the well-being of billions of people, and help reduce floods, soil erosion, and disruptions in global weather patterns. Flash Forest's pioneering and cutting-edge approach to reforestation utilizes unmanned aerial vehicle (UAV) technology and automation to plant trees swiftly, efficiently, and accurately. Their drones significantly accelerate the reforestation process and enable tree planting in previously inaccessible areas and adverse weather conditions. 
Flash Forest's pioneering role in reforestation has helped them catch the attention of investors and media outlets across the globe. Over the last couple of years, they've raised multiple funding rounds, popped up in mainstream media outlets like Forbes, Fast Company, and The Washington Post, and landed on the Cleantech Group's '50 To Watch' list. Their current success and upward trajectory has them on course to achieve their goal of planting over a billion trees by 2028. 
Flash Forest's Innovation and Business Development Manager, Marc Apduhan, sat down with NVBC to dig into some of their recent milestones and what their experience was like going through the 2021 New Ventures BC Competition, presented by Innovate BC.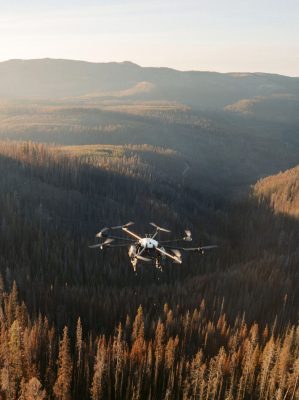 It's been two years since Flash Forest competed in the New Ventures BC Competition, presented by Innovate BC. What have you been up to during that time?
We've grown our team and hired some of the best and brightest to help our fight against climate change. We've also partnered with some great organizations, including TELUS, to reforest areas of Canada substantially affected by the wildfires, especially in areas that may be too unsafe or remote for human access.
Canada has surpassed its record for the largest area burned by wildfires in a single year. The blazes have burned more than 15 million hectares (37 million acres) across the country — 21 times above the average over the last decade. The European Union's Copernicus Atmosphere Monitoring Service (CAMS) said the smoke has travelled east over the Atlantic Ocean to Ireland, France and Spain. Wildfires have temporarily evacuated more than 120,000 people across the country to date, and have released 160 million tonnes of carbon, the most of any year since 2014.
Flash Forest played a key role in reforestation efforts in these affected areas, planting across 13 sites in Canada, with the majority of our efforts in BC and Alberta. Our field operations team, as well as our Indigenous, corporate, and non-profit partners, have been working tirelessly to pull everything off. As you can imagine, the logistics of identifying the correct tree species and ratios as well as the permitting, operations, and execution phases take a tremendous amount of detail-oriented hard work.
Lastly, in July 2022, we were thrilled and honoured to be recognized as one of the seven Top Innovators in UpLink's NatureTech Challenge. Winning this award validated our unwavering commitment to utilizing high-tech applications to accelerate and scale-up Nature-based Solutions. 
Earlier this year, you raised an $11.4M Series A Round. How do you plan on leveraging this funding to accelerate your growth?
As you know, the investment was co-led by the Telus Pollinator Fund for Good and OurCrowd, an online global venture investing platform. That money will go towards refining our technology and supporting our expansion of post-wildfire reforestation solutions across North America. 
BC is home to one of the world's top cleantech ecosystems. How valuable has it been to be around other cleantech founders and startups as you grow your company?
I acknowledge where we live, work, and play is on the unceded and traditional territories of more than 200 distinct Indigenous Nations in BC.
Many of us here in Flash Forest consider BC home, and we are thankful to be a part of one of the world's top cleantech ecosystems. It's humbling to be surrounded by cleantech founders and startups that bring us forward and help us achieve our goals. The networking opportunity NVBC has provided has been essential in connecting our team into the ecosystem.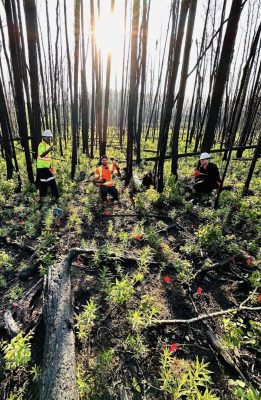 Both locally and abroad, forest fires are becoming increasingly more common. Tell us about how Flash Forest is supporting reforestation efforts in these affected areas. 
The majority of our reforestation efforts are concentrated in post-wildfire areas across Canada. We work directly with communities and landowners impacted by the fires in restoring their land. In 2024, we'll be expanding our work into new provinces and across the border into the United States, working to restore wildfire-ravaged ecosystems at large. While we are concentrated on North America at the moment, our long term goal is to be performing this vital reforestation work worldwide.
Reforestation is a global effort. The World Economic Forum and the 1t.org Canada Leadership Council, chaired by tentree & veritree, are leading the charge in Canada by providing leadership and support to the pledging companies, stakeholders, and communities in meeting their forest conservation and restoration pledge targets with Flash Forest. Council members come from diverse backgrounds in forestry, conservation, policymaking, and Indigenous communities.
Flash Forest advanced to the Top 26 during the 2021 Competition. What was your Competition experience like? 
We had a positive experience in the 2021 Competition. In fact, we still work and interact with many of the mentors, judges, and startups that participated in the competition with us.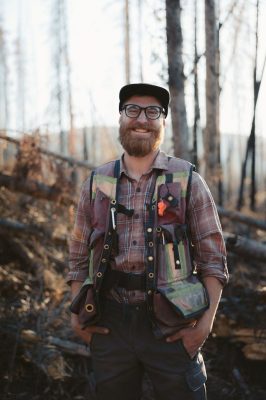 What do the next 12 months look like for Flash Forest?
The next 12 months are going to be a whirlwind for Flash Forest. We are working internally with organizations that prevent forest fires, providing rapid reforestation technologies in these impacted areas as our highest priority.  Additionally, our work with our Indigenous, local, and non-profit partners continues in the identification of sites and species. We are continuing to expand our team, bringing in professional foresters, scaling automated production workflows, and doubling our capacity.
We are planning 4 million trees across Canada and entering the USA, focused on working with our Indigenous (Canadian) / tribal land (USA) projects, where we collaborate closely with, contract and employ Indigenous. At the heart of it all, optimizing our technology and perfecting our reforestation process continues to be of utmost priority.