With the constant evolution of digital technology in our daily lives, modern digital marketing has become more competitive. The job of marketing leaders has become more difficult than ever before. From building a brand to leveraging technology and beyond, the world is becoming more complex.  Charlie Grinnell and Evan Knight, co-founders of Vancouver-based RightMetric, saw an opportunity to better leverage data and technology to create a platform that provides B2C marketing leaders with the quick answers they need to make better strategic decisions, faster.
We interviewed Charlie to learn more about the strides RightMetric has made since their launch and the mentorship they have received in our Sales Accelerator Pilot Program.
Quick elevator pitch: what do you do and why are you passionate about it?
RightMetric is a subscription-based marketing intelligence firm. Our main product is the Insight Library which provides marketers with data-backed case studies providing both audience and competitive insights that power winning digital marketing strategies. We offer this at a fraction of the cost of traditional market research, software or consultants.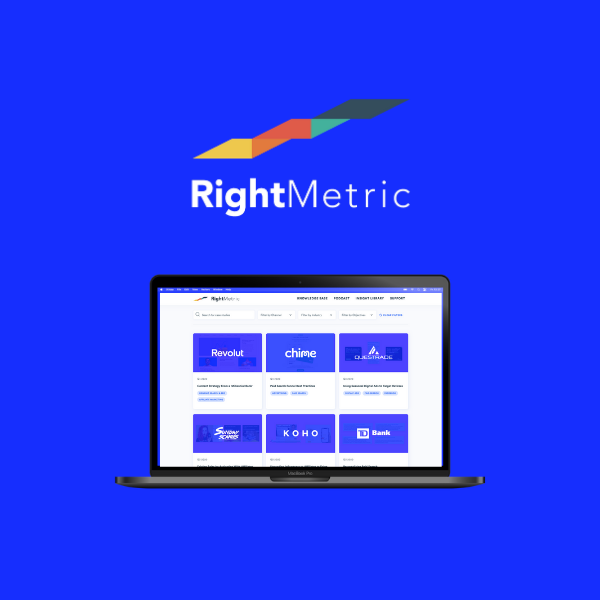 The Insight Library is a great source of unbiased insight for both brands and agencies. We're not consultants and we don't have any incentive to recommend our clients do one strategy or another. We specialize in telling the truth about what's working in marketing in a simple and compelling way. Smart strategists at our client brands and agencies can then use that to make smarter decisions, faster.
In just over two years, our small but mighty team has grown our startup to provide strategic insight to brands such as Red Bull, Interac, lululemon, Toyota, Save-On-Foods and more.

How did you come up with the idea for RightMetric?
We wanted to make marketers' lives calmer. Having first-hand experience with the chaos marketers' feel, Evan and I decided to develop a solution that would consolidate relevant data into one place and generate holistic insights. This allows us to provide our subscribers with quick and reliable answers that provide a clear path forward, help align their teams, and ultimately reduce stress.
What is your top takeaway from the Sales Accelerator Program so far?
Our mentor Peter de Verteuil has acted as a valuable sounding board for us. His mentorship and sales experience has provided RightMetric with supportive insights and both product/market validation. He has encouraged us to "think bigger" and pursue more aggressive targets for 2021 and beyond which we have really appreciated.
What is the five year outlook on your venture?
By 2025, RightMetric's Insight Library will be powering 200 companies globally, helping marketers make calmer and clearer business decisions. We also hope to grow our small team, with the goal of keeping it lean. If you're interested in following our journey or to receive useful insights subscribe to our newsletter.
Get on the waitlist
Due to high demand applications for our Sales Accelerator Pilot Program are closed at this time. Get on the waitlist so we can contact you when space opens up. 
Waitlist