Congratulations to Edvisor for taking first place in the 2015 BCIC-New Ventures Competition!
After many months of competition, the results are in! Last night, at a packed house on Main Street at the Imperial in Vancouver, we announced the winners of our 15th annual competition. The event also helped to kick off Vancouver Startup Week.
With our lead partner and title sponsor, the BC Innovation Council (BCIC), over $300,000 in cash and prizes were awarded to the top tech ventures in the province.
Finishing in first place was Edvisor, an online management system for education agencies to coordinate studying abroad programs.
"We want to thank New Ventures BC and our mentors who helped take Edvisor to the next level," said Shelley Chen, Design Co-Founder of Edvisor. "Vancouver is a perfect multicultural place to start kick start our education technology business."
Our top three winners for 2015
Coming in first place was Edvisor, followed by Ziva Dynamics, a virtual character development tool with applications that range from film characters to surgery simulation, and Change Heroes, a video-driven platform that changes the way Millennials fundraise.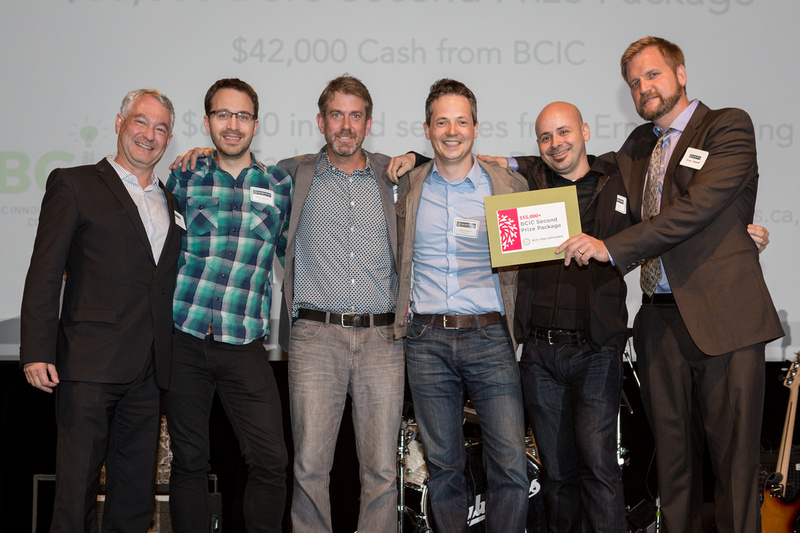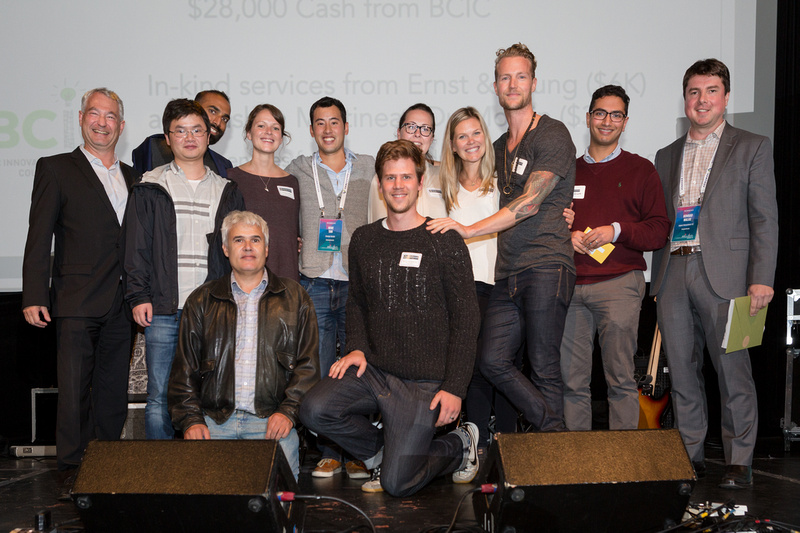 2015 BCIC-New Ventures Competition Winners:
$100,000 BCIC First Prize Package & Rocket Builders GotoMarket Prize:  Edvisor
Edvisor built an online software platform that connects language schools directly with education agencies, making the process of studying abroad a one-stop-shop to view courses, prices, student history and manage business operations.
$55,000 BCIC Second Prize Package and Rocket Builders Most Promising Pitch Prize: ZivaDynamics
Ziva Dynamics is transforming human interaction in virtual spaces—from gaming to film to surgery simulation.
$37,000 BCIC Third Prize and $16,000 Vancity Social Venture Prize: ChangeHeroes
Change Heroes is an online fundraising platform. To date, the platform has raised over $1M to fund 217 projects for over 200,000 people.
$22,000 BCIC Resource Industry Prize Package: StemShock
Stem-Shock is a programmable non-GMO herbicide to aid the fight against invasive or herbicide- resistant weeds.
$20,000 BC Bioenergy Network Prize and $10,000 City Innovation Prize: RecycleNow
Recycle-Now! provides tailored recycling and education services to clients in Vancouver.
BCTIA Centre4Growth Accelerator Program Prize Package: DoolyNoted
Dooly Noted is a platform for salespeople that tags meetings notes, shares information, and automatically updates the right fields within their CRM.
Wavefront Wireless Prize Package: CamDo
CamDo expands the application of GoPro cameras for numerous markets, including: deep-water and extended time-lapse.
Plug and Play Tech Centre Prize: Prollster
Prollster is an educational technology start-up dedicated to making online learning more social. It engages students and boosts their academic results in the process.
What technology means for BC's economy
B.C.'s technology sector generates more than $23 billion in revenue and is the second fastest private job creator in the province. Over the past 15 years, companies in the BCIC-New Ventures competition have contributed to this vital part of B.C.'s economy by creating more than 3,300 jobs and raising more than $250-million in financing.
"By advocating and promoting new ventures, we are helping to support innovation in B.C.," said Amrik Virk, Minister of Technology, Innovation and Citizens' Services. "Our government is a proud supporter of this annual competition and its impact on generating new businesses, employment and growth in B.C."
"The BCIC-New Ventures Competition helps fuel the growth of technology startups in B.C.," says Greg Caws, President & CEO of BCIC. "Each year we are excited to see the ingenuity, innovation and initiative shown by the entrepreneurs in the program, and pleased to help accelerate the growth of their ventures."
"We were impressed with the quality of submissions this year," said New Ventures BC Program Manager Angie Schick. "It's testament to the increasing sophistication and growth of the tech ecosystem in B.C. Many successful companies have come through this competition—we wish all of our winners and entrants success and look forward to seeing their continued progress."
About the BCIC-New Ventures Competition
Thinking about joining us next year? The BCIC-New Ventures Competition is the largest of its kind in Canada. More than just a contest, our annual competition offers mentorship, business development opportunities and cash prizes.
Our alumni competitors are frequently recognized by existing industry-leading businesses as B.C.'s fastest-growing and most promising companies on track for significant venture capital investments or acquisition.
We typically run the contest from April – September. Check our website in March of 2016 for details on how to register.