RetreatsAndVenues Emerges Victorious in the 2023 New Ventures BC Competition
●  The B2B Marketplace took home the $110,000 Innovate BC First Prize Package
●  Competition finalists competed for $250,000 in cash and prizes
Vancouver, BC, October 3, 2023 – RetreatsAndVenues, an innovative platform that's revolutionizing the corporate retreat and offsite venue booking experience, won the top prize in the 2023 New Ventures BC Competition, presented by Innovate BC. The North Van startup outlasted 203 other startups en route to earning $110,000 and the title of the province's top startup.
RetreatsAndVenues offers a meticulously curated online marketplace featuring over 4,200 retreat venues spanning across 120 countries. Their comprehensive solution empowers businesses seeking the perfect venue for their corporate retreats and offsite gatherings. With a user-friendly interface and an abundance of filter criteria, retreat leaders can make well-informed booking decisions while saving valuable time and money.
BrowseAI, a platform that enables non-technical users to transform any website into a spreadsheet or data pipeline, took home the $60,000 Innovate BC Second Place Prize Package. Blanka, a comprehensive wholesale hub and fulfilment partner for branded beauty products, won the Innovate BC $35,000 Third Place Prize.
The competition, which just completed its 23rd consecutive year, brings together the province's top startups who receive access to education, mentorship, and $250,000 in cash and prizes. To date the competition has supported over 3,500 companies that have created more than 9,000 jobs, and raised over $1.5 billion in financing.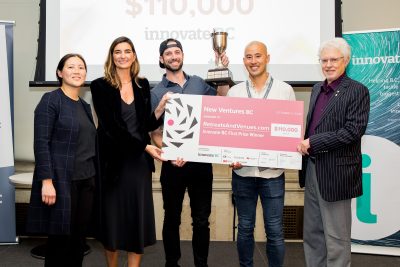 In addition to the top three prizes, six additional companies were recognized for their achievements across a range of categories:
●  $10,000 Innovate BC Sustainability Prize went to Viridis Research, a watertech startup developing groundbreaking technologies that eliminate organic pollutants from water.
●  $10,000 Innovate BC Regional Startup Prize went to Joni (Victoria), a 21st-century period care brand that's increasing access to sustainable menstrual products.
●  $10,000 Innovate BC Woman-Led Venture Award went to Ginger Desk, a healthtech startup providing on-demand, pre-trained professional virtual admin (VA) support specifically designed for allied health practitioners.
●  $10,000 National Bank of Canada Leap to the Cloud Prize went to Leasey.AI, a platform that enables property managers to streamline and automate the residential leasing process.
●  $5,500 Luminaries Diamond-in-the-Rough Award went to Seleste, a wearables startup empowering people with vision loss.
● The Alumni Impact Award went to Jane Software, a healthtech startup offering a platform for online booking, scheduling, and practice management for healthcare practitioners. The award recognizes competition alumni that have made a significant contribution to the BC tech community.
Watch the livestream here
Angie Schick, Executive Director at New Ventures BC
"This year's top 10 provides a great representation of B.C.'s vibrant startup ecosystem — they're pioneers, collaborators, and relentless problem solvers.Whether it's companies like Ginger Desk that are increasing the efficiency of our health care system, cleantech ventures like Viridis Research that are eliminating pollutants from our water, or wearables startups like Seleste who are increasing accessibility, these high-growth companies exemplify the enormous potential of B.C.'s tech sector."
Cory Sivell, Co-Founder & CEO at RetreatsAndVenues
"Winning the 2023 New Ventures BC Competition is a huge achievement for our team. We're truly humbled by this honour and thankful for the guidance and support we've received along the way. This victory will serve as a catalyst for our continued growth, allowing us to further our mission of helping deliver over 1 billion 5-star retreat experiences.
Tomica Divic, Interim President & CEO at Innovate BC
"Each year, the New Ventures BC Competition highlights and supports incredible companies that are advancing industries through new technologies and innovating in how we engage with everything from pressing global challenges to aspects of our daily lives. Innovate BC is proud to support the Competition again this year, and we look forward to following the journeys of each of its participants and winners as they make their mark here in B.C. and beyond."
Brenda Bailey, Minister of Jobs, Economic Development and Innovation
"The finalists of the 2023 New Ventures B.C. Competition are amazing examples of the innovative and creative people and businesses thriving in British Columbia. These businesses are crucial to maintaining B.C.'s strong economy, and our government is committed to continuing to support the growth of the tech sector as we build a stronger B.C. that benefits everyone."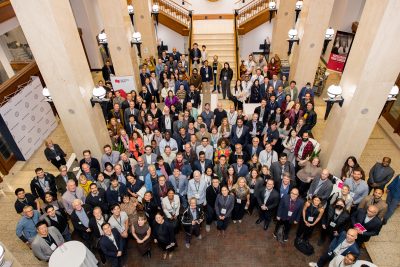 New Ventures BC (NVBC) was initiated 23 years ago to help early stage tech startups grow. As a non-profit, they run the annual New Ventures BC Competition, a Venture Acceleration Program, and the newly launched AccelerateIP. To date the New Ventures BC Competition, presented by Innovate BC, has supported over 3,500 companies that have created 9,000 jobs, and raised over $1.5 billion in financing in BC.
Innovate BC helps foster innovation in B.C. so that British Columbians in all regions of the province can benefit from a thriving, sustainable, and inclusive innovation economy. A Crown Agency of British Columbia, Innovate BC funds and delivers programs that support the growth of the B.C. economy by helping companies start and scale, train talent that meets labour market needs, and encourage technology development, commercialization, and adoption.
Media Contact
Jamil A. Karim
jamil.karim@gmail.com
604.317.5786