RBCx is an innovation arm of Royal Bank of Canada that supports Canadian tech entrepreneurs through partnerships and access to capital. As a Bronze sponsor for the 2022 NVBC Competition, the team is keen to be able to extend support to this year's competition cohort. 
We sat down with two key members of the RBCx team – Devon Thompson, RBCx Managing Director, Banking, and Laith Shukri, Director, Platform Engagement – to learn more about the different ways they support startups, and some successes their companies have seen to date.
What does RBCx do, and how do you support startups in BC?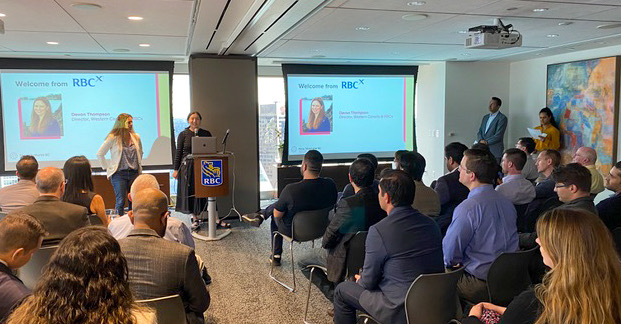 RBCx acts as a tech banking and innovation arm of Canada's largest bank, supporting startups in a myriad of ways. There are four main areas we work in: banking, access to capital, platform connections, and ventures.
With banking, we provide specific financing products and services for entrepreneurs to help them scale. On the capital side, we invest in and manage funds for leading venture capitalists who have a focus on tech, life sciences, and climate sectors. We also help entrepreneurs make connections with service providers and strategic partners through our platform team. This team is dedicated to curating a network of experts across core business areas like marketing, design, technology and operations, who are ready to help teams achieve their next level of growth. 
With RBCx ventures, we invest in and strategically partner with a select portfolio of innovative technology businesses that are focused on building new capabilities for RBC. Examples include: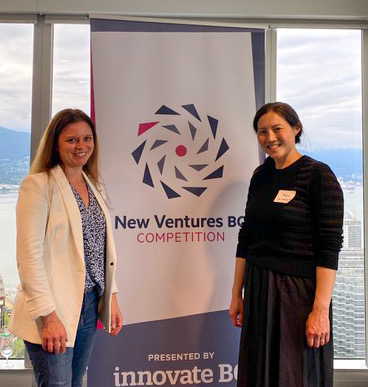 Mydoh, an app and smart cash card designed to equip kids with real-world money skills, and Ownr, a platform dedicated to helping small businesses start, grow, and succeed.

Is there a story you can share on how you've helped a company advance their growth, that would give other founders an idea of how to best engage with you?
Two companies come to mind, both of which were recognized as finalists in the 2021 New Ventures BC Competition: MintList, and Moment Energy.
MintList is an AI-powered online marketplace that facilitates the buying, selling, and trading of cars between consumers and dealers. By aggregating dealer data, the team is able to access the majority of vehicle inventory in a $1 trillion global market without owning any of the product. They launched in January 2022 and have already achieved over $10M GMV. 
The team approached us in their pre-seed days, when they were looking for financing and partnerships to accelerate their growth. Through our network, we were able to connect MintList with vehicle dealers and other strategic partners who were a great fit for helping realize the team's goals.
"The RBCx team is simply phenomenal, and truly felt like an extension of our team," shared Mehrsa Raeiszadeh, Co-founder and COO of MintList. "We were with small business banking before, and never felt like they could truly relate to our needs or where we were headed. With RBCx, it was a night and day difference. They are superconnectors who made impactful introductions through their rich partner network. The innovative banking products they offered were also very suited to our needs as an emerging startup, helping us maximize value and minimize costs during a critical growth period."
MintList has seen a ton of success in less than one year since launch – they were selected as one of 12 companies to participate in Google for Startups program, and were also the first Canadian company to take home a Stevie Award for "Software Tech Startup of the Year".
Another company that we've actively supported and partnered with is Moment Energy. The company creates sustainable energy storage systems for both commercial and residential infrastructure by repurposing retired electric vehicle (EV) batteries. In 2021, they raised $3.5 million CAD to bolster their production capabilities to meet growing demand for its solution. This year they secured a partnership with Mercedes, along with a Venture Debt facility through RBCx. 
"Partnering with RBCx has played a major role in helping us establish a solid foundation for growth," says Edward Chiang, Co-Founder & CEO at Moment Energy. "They've facilitated meaningful introductions to others in Vancouver's cleantech ecosystem, and provided the financial security that enabled us to expand our manufacturing space and capabilities. Their financial support has been key, supporting us with $1 million in venture debt. We're looking forward to continuing to work together as our company evolves."
Moment Energy took home the grand prize at Spring Activator's 2021 National Impact Investor Challenge, and saw a third-place finish at the New Ventures BC Competition in 2021.
You have a sweet spot in connecting companies with strategic partners and capital for growth. What advice do you have for founders who want to find new partners to advance their goals?
First of all, I'd say founders need to do their homework. In order for us to facilitate meaningful connections, companies need to have clarity on the stage their company is at, and get specific on the help they need. If you're looking for an investor for example, it's important to have realistic expectations on what a partner can do for you. Your goals for a partnership need to be informed by the current market environment, and your business maturity. This takes self awareness to assess what stage you're at, and a current pulse on your competitive landscape
Second, make sure you take time to set some criteria for what you want to see in a partner to make sure they're a good fit. Engaging in a partnership with someone who is ill-equipped to solve your specific problem, or trying to grow too fast too soon, can set your team back tremendously. Make sure you're asking for a track-record of the results you're looking for, and vet partners based on key qualities like accountability, honesty, and familiarity with your market. 
As a sponsor supporting the NVBC Competition, how is RBCx looking forward to helping program participants? 
This is our first year being involved with the NVBC Competition as a sponsor. We are really excited to have the opportunity to support NVBC's programs as we've seen the team be such a driving force in the BC tech ecosystem.
Through many of our portfolio companies and clients at RBCx, we've seen time and time again the value that NVBC provides in helping emerging companies get connected to the right resources and see traction with their ventures. Between the seasoned mentors and comprehensive prizes packages they curate every year, we're grateful to be able to play a role in adding fuel for these founders. We're always selective in where we place our sponsorship dollars, and are confident that New Ventures is truly an impactful place for us to invest in. 
What's the best way for companies to connect with your team, and learn from you?
If you are looking for a strategic partner to help you grow, the team at RBCx would love to connect and see if working together is a fit. Keep an eye on updates from the RBCx team on their website here, or feel free to reach out to Devon or Laith directly through LinkedIn to discuss opportunities.