This year marks New Ventures BC's 20th anniversary of supporting tech innovation in BC! We are celebrating our 20 years of impact by interviewing those who made the past two decades so special.
Microbiome Insights is a leading microbiome testing and analysis company that came in second in the 2017 Competition and made it to the top ten in 2015. Offering research solutions to academia and for-profit companies, Microbiome Insights is a global leader in one of the fastest growing areas of study in biological science.
Microbiome Insights' CEO and co-founder, Malcolm Kendall, is a long-time Competition judge at NVBC. With three decades of experience creating and building value in technology and biotechnology companies, Malcolm not only knows what it takes to build a successful company, but understands how to keep it thriving through challenging times. To learn more about Malcolm's industry experience and what's next for Microbiome Insights, we checked in and asked him a few questions.
What is the most valuable thing you've learned that you wish you knew when first starting out? 
The importance of due diligence and market research – the more you know, the better understanding you have and the more likely you are to develop a new successful product or service.
I've also learned the value and importance of people–good people. Hiring, culture and interpersonal relations are critically important in all businesses, especially startup companies.
What's on the horizon for Microbiome Insights?
It is a very good time to be a microbiome testing company. The microbiome is a new, important and fast-growing area of science that will positively impact major industries such as healthcare and pharmaceuticals, food and nutrition, agriculture and the environment.
There are many microbiome products on the market and in development in a number of industries, including a number of microbiome based therapies or drugs in late stage clinical development. If these drugs are successful and demonstrate safety and efficacy, this will be a key milestone and have the potential to unlock and accelerate the microbiome space.
Many people and companies, especially pharmaceutical companies, are waiting for this validation before investing more in this area. Our company is poised to expand into the clinical development market and take advantage of this growth.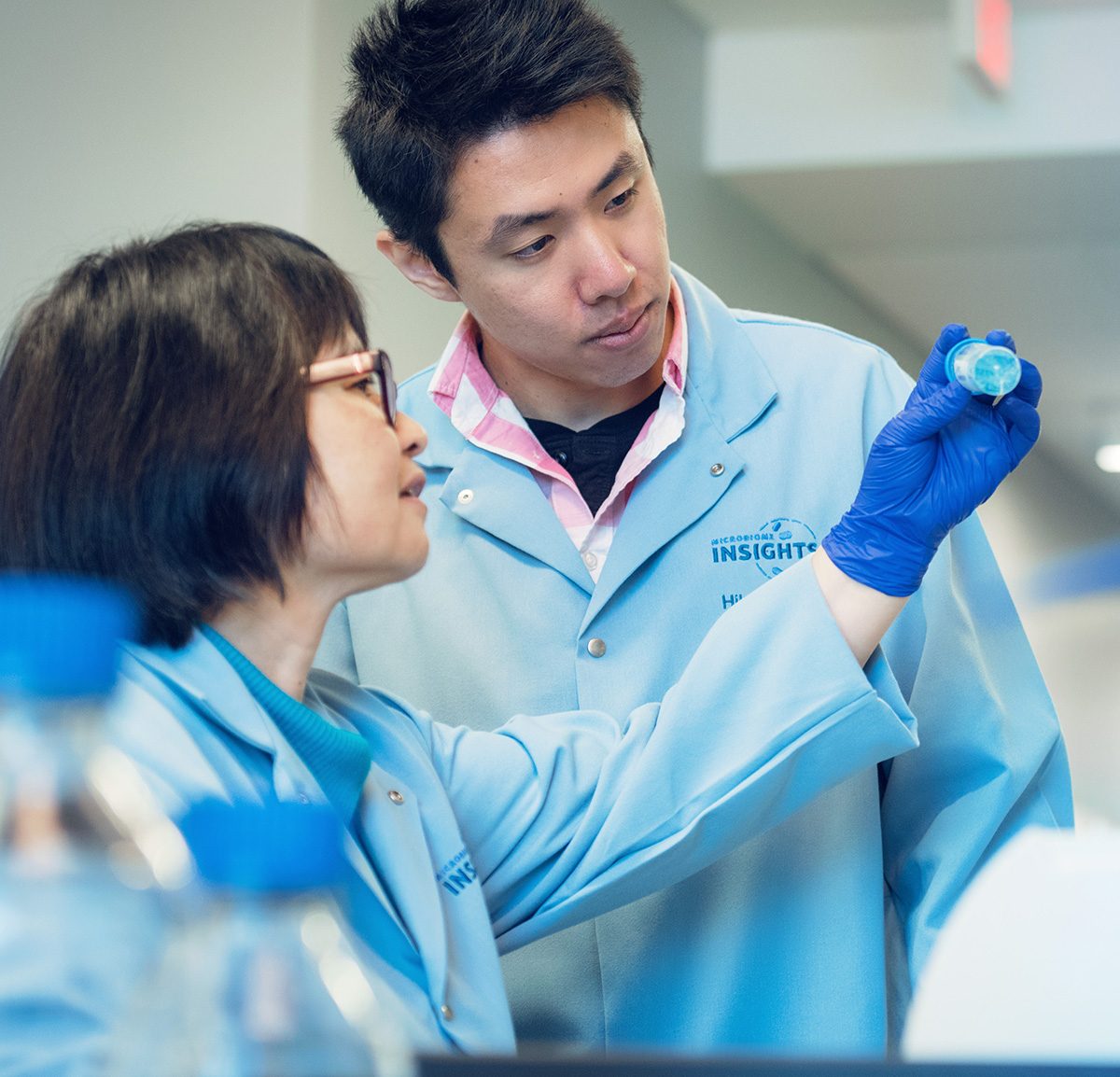 What have been the biggest challenges faced by Microbiome Insights?
Up until 2020, I would have said growing with cash flow, but the global COVID-19 pandemic is by far the biggest challenge faced by our company as it probably is for all companies. With UBC shutting down all research activity, our lab, which is located on the UBC campus, was at risk of potentially having to cease operations due to the pandemic, but thankfully we were allowed to keep operating.
To stay open, we had to ensure the safety of our key lab personnel and all non-lab employees began working remotely. Our clients were also impacted as some research has been slowed down or suspended. Luckily, we have been able to work through and keep the business growing.
What has being a Competition judge taught you? 
My involvement with the program has provided me with a continuum of learning from mentors, judges, educational programs, service providers and online resources.
I always look forward to being a judge for the Competition.  Over the years of being a judge, I have noticed that many companies in the second round need more work understanding their customer and market. Thankfully, the New Ventures BC Competition provides the structure to help companies learn these aspects of their business. I believe this is one of its great benefits–it is very much an MBA program for entrepreneurs.
New Ventures BC has helped identify, mentor and grow many of the leading technology and life science companies in BC.
What do you think makes successful company? 
I think the key elements to building a successful company are first making sure you have a real, viable market that you can access. You also need a product or service that is valuable to your customers and that you can differentiate from your competitors. It helps if it is a proprietary product with IP protection.
Having experienced people on your team and entrepreneurial leadership and drive is also important. And, finally, good timing and luck always helps.
How would you describe NVBC's impact on the tech community? 
As you may have gathered, I am one of NVBC's biggest fans. Over the last 20 years (can you believe it has been that long?) New Ventures BC has helped identify, mentor and grow many of the leading technology and life science companies in BC.
Many entrepreneurs with good ideas enter the Competition and emerge with viable, growing businesses. The Competition has been a training ground for entrepreneurs and managers to help fuel our tech community. In two words: huge impact!
Share your #2020nvbcimpact story!
This year marks our 20th anniversary of supporting tech innovation in BC! We are inviting NVBC Competition alumni, mentors, volunteers, accelerator participants, and ISI grant recipients to share your impact story by completing a short form on how you feel NVBC supported you and sparked innovation in the tech sector!
Submit your story