Rootd is anxiety and panic attack relief in your pocket. The female-founded mental health resource offers a guided process for immediate and long term relief, with stigma-breaking design and therapist-approved content. It's already the #1 ranked mobile app on Android and iOS for individuals struggling with panic attacks and anxiety.
Through innovative distribution channels and partnerships, Rootd is committed to always ensuring the platform is accessible to those who are struggling. The app's core relief features are free, so users can get instant relief when they need it most no matter their circumstances. Paid upgrades are available when users are ready to manage their anxiety and panic attacks long term.
Endorsed by world-leading health app evaluator
Founder Ania Wysocka envisions Rootd becoming one of the most widely used anxiety and panic attack resources, trusted by millions in Canada and worldwide. And she's not far off from that dream. Named one of the Best Apps for Anxiety by Healthline, Cosmopolitan and Time Magazine, Rootd is already helping thousands of people worldwide. 
The app has been downloaded by 500,000 users across 150 countries, and earned a ORCHA recommendation to the UK's National Health Service. That's a serious endorsement from the world's leading health app evaluation organization. ORCHA helps governments, health and social care organizations choose and deliver health apps.  

Where the Competition fits in
The New Ventures BC Competition, presented by Innovate BC was a very attractive opportunity for Rootd, so Founder Ania Wysocka worked hard to earn her Top 10 spot. She believes the competition will help showcase the value of supporting bootstrapped female founders, and looks forward to the recognition, funding opportunities and networking that come with being one of the competition's finalists.   
Humble beginnings
But Rootd wasn't Ania's first venture into entrepreneurship. As a child, Ania set up an art gallery at her grandparents' house in Poland. She charged a small fee for family and friends to view her paintings, even hiring a younger neighbour to find her additional patrons. Her employee was paid in bubblegum. She credits this bit of childhood fun with sparking her taste for entrepreneurship, and hasn't slowed down since.
About the founder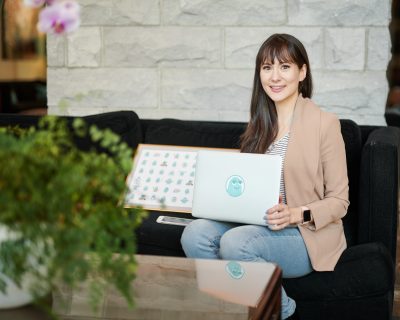 Ania Wysocka | Founder

Ania is the founder of Rootd, the #1 ranked app for anxiety and panic attack relief. As the founder, she is responsible for designing, writing, and managing Rootd's content and features. Her unique experience in graphic design, branding, and subject matter expertise make Rootd unreplicable and full of personality

Rootd is located in Victoria, B.C.
Twitter | Facebook | Instagram | Google Play | App Store | Promo Video 

Click here to find out more about Matidor and the other Top 10 Finalists of the New Ventures BC Competition, presented by Innovate BC.