We checked in with Lumen5's CEO and Co-founder Mike Cheng to catch up on everything that the team has accomplished since winning the 2019 New Ventures BC Competition, presented by Innovate BC a few months ago and what they learned along the way. 
Quick elevator pitch. What does Lumen5 do? Why are you passionate about it?
Lumen5 is a video creation platform that enables anyone to easily create engaging video content within minutes — no training or video experience required. Over 400,000 brands across the globe rely on Lumen5 to produce videos, including Salesforce, The Economist, SAP, Time Magazine, and more.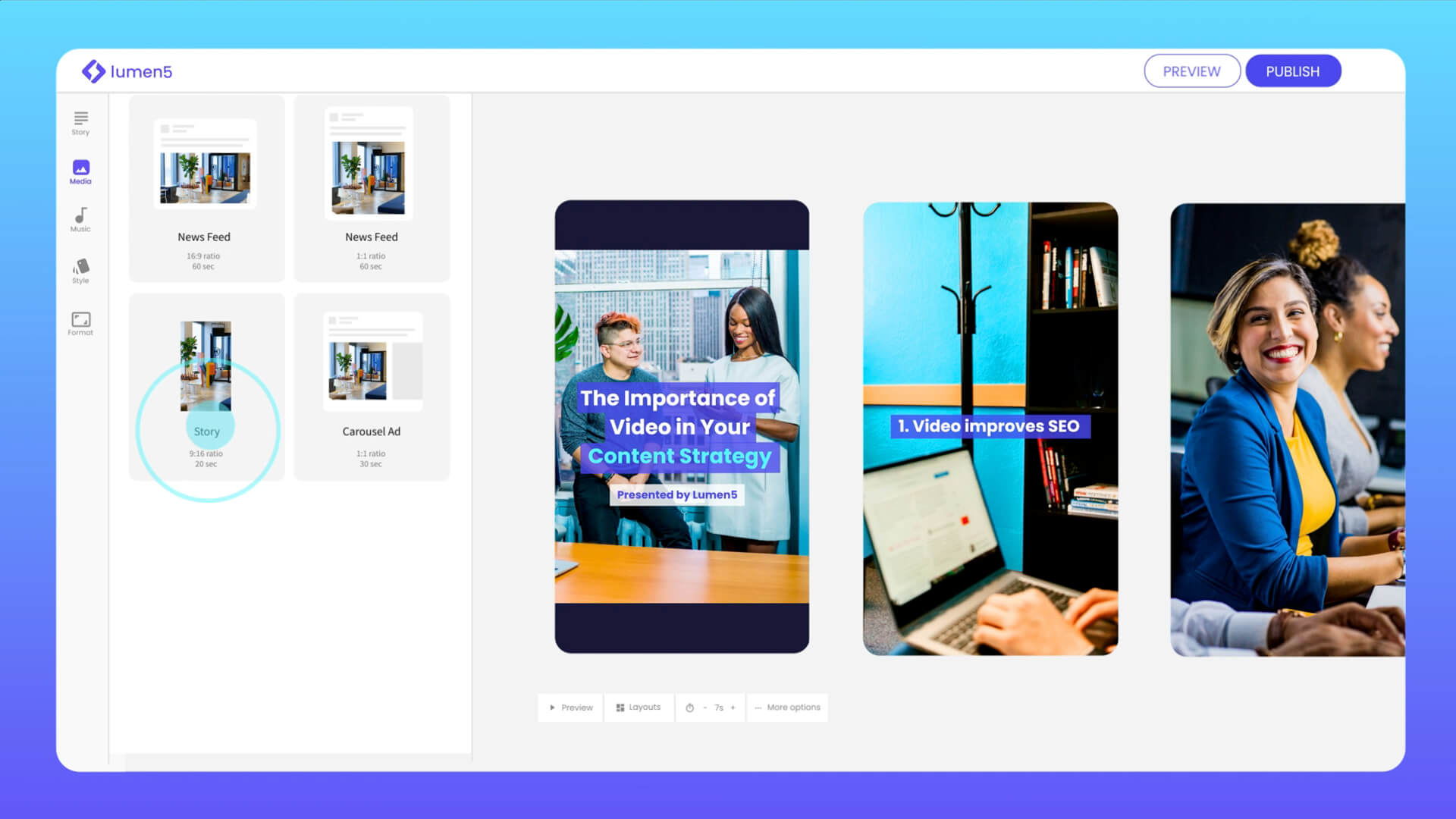 What has been happening at Lumen5 since winning the 2019 NVBC Competition?
Since winning the Competition, we have doubled our team from 15 to 30 people. The brand recognition Lumen5 received from winning the Competition helped showcase not only the value of our product, but also helped us build an employer brand as a fast-growing employer here in BC. This recognition has empowered us to attract top talent and we brought on 15 new team members for our sales and marketing team to help scale our business. Since entering the 2019 Competition around this time last year, we have doubled our user base to 450,000 users without raising any venture capital.
How did you use the Competition prize money?
We used the prize money towards a learning budget for every member on our team. This new learning budget is designed to help our team members build new skills and accelerate their careers. With this new program, everyone at Lumen5 can now take courses, hire mentors, or pursue any method of learning that best suits them.
Why did you enter the Competition multiple times?
Ten years ago, during the very early stages of my entrepreneurial career, I entered the Competition with a web design agency that I built at the time. Moving through the various rounds were challenging and ultimately revealed that my agency was not a scalable business. A decade later, with more experience, fantastic partners, and a great team, I re-entered with Lumen5 to see if our hard work can live up to the high expectations of the mentors and jurors of the Competition. Each round, we were challenged to consider many different aspects of our business including growth potential, technology risks, competition, and more. Passing through each round helped us strengthen our business plan and pushed us to become a better team.
What is your biggest takeaway from the Competition?
We as a team have been very internally focused on building our product and never really had a presence in the local tech community. Being part of the Competition allowed us to become part of a community of startups here in BC. It was also a great opportunity for me to meet others founders, build friendships, partnerships, and help each other out.
Any encouraging words of advice for tech startups looking to enter the 2020 competition?
There is so much more to every competition than just the results. Winning should not be the focus. The journey is all about what you can learn as a founder and how that experience can strengthen the team. Ten years ago I entered the Competition with a business that I knew had no real chance of winning, but I entered for the feedback and learning opportunities from the mentors and jurors. My advice would be to enter the Competition with a mindset of learning and not think too much about the results.
What is on the horizon for Lumen5? What are you looking forward to?
I look forward to growing the team and strive towards building Lumen5 to become the next anchor in BC's tech ecosystem. On the product side, we use artificial intelligence to assist with creative storytelling, which is a fascinating union between art and science. I look forward to pushing the boundaries of what technology can enable as we continue to transform video storytelling for millions around the world.
Learn more
Think your startup might have what it takes to be one of BC's best? Learn more about the annual New Ventures BC Competition, presented by Innovate BC. 
Learn more