This article is part of a series where we check in with past NVBC competition winners to see how they've progressed since taking home the Vancity prize. 
FundRazr has a deep social mission: helping individuals, non profits, and businesses raise money for causes they care about. To date, the award-winning online fundraising platform has helped almost 200,000 projects in over 40 countries to raise over $162 million dollars.
Based in Vancouver, the team is dedicated to their mission of making fundraising accessible and easy for everyone. In 2011, the team was recognized for this commitment by winning the Vancity Social Venture prize as part of the New Ventures BC Competition.
This $15,000 cash prize is given to the top-performing for-profit company that is driven by a strong social or environmental mission.
Since the competition, the team has continued to refine their product and has gained further recognition along the way.
We caught up with FundRazr CEO, Daryl Hatton, to find out how the company has progressed since the competition, and how it's navigated the inevitable challenges that come with success.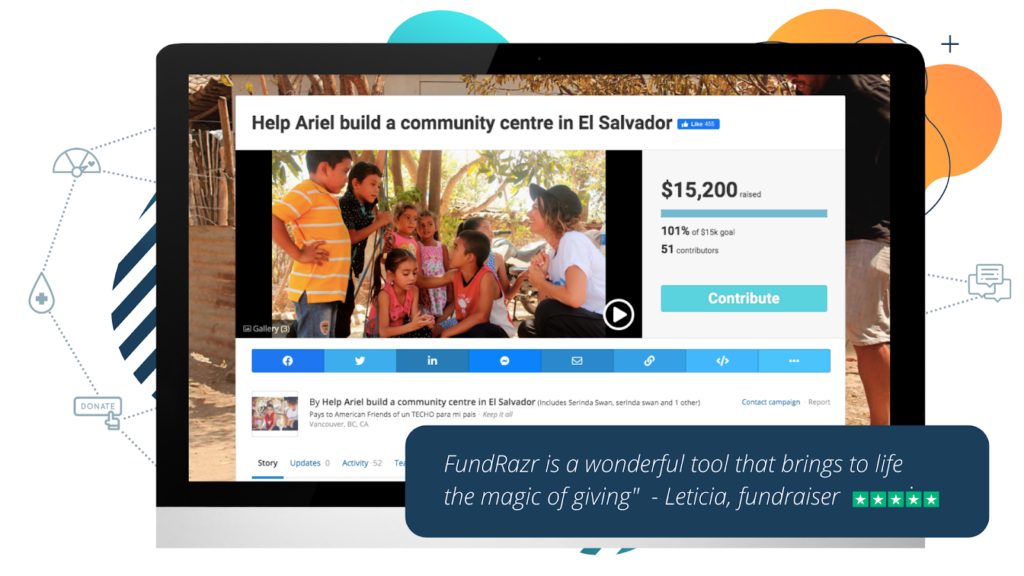 What do you do, and what are you passionate about?
We are re-imagining digital and social fundraising to improve the way nonprofits and social enterprises fund their social impact projects. This is massively important work because the nonprofit sector is heading towards a funding crisis: governments are cutting funding for social programs in spite of increased demands placed on the sector from an aging population.
Imagine Canada, a nonprofit research group, estimates the deficit will be $25B in the next 10 years. At the same time, the base of charitable donors is being hollowed out: 30% fewer families made tax-deductible donations last year compared with 10 years ago. If something doesn't change, our social safety net may fall apart. Not only in Canada but around the world.
What does your team look like now?
Our team is around 10 people – we're similar in size to when we won the NVBC prize.
The leadership team consists of myself as CEO, a Chief Marketing Officer, and Chief Technology Officer.
We also have a Customer Care Manager, two Senior Developers, a Senior User Experience Designer, and a Quality Assurance Manager. In addition, we have two Advanced Digital Fundraising Advisors.
How did the prize impact your startup? What were you able to do with the prize money?
The prize money came at a crucial time for the company. We'd been trying to raise investment from angels to help us scale the company but weren't getting much interest. Having the extra cash gave us the courage to pause our investment acquisition project and focus on activities that would help us drive more revenue. It was helpful to have a longer runway to continue working on ways to develop our solution and generate revenue.
What have been some of the most exciting milestones you've achieved since the competition?
To date, we've helped almost 200,000 fundraising projects in over 40 countries raise over $162 million dollars. We expect we'll see an increase in the amount of money we've directed to social impact projects to over $1 billion in the next ten years.
Along the way, we've seen a number of exciting milestones and fundraising projects get off the ground. For example, we ran the largest crowdfunded science project on the planet: over $3 million was raised by the University of Southern California in San Diego, for the ongoing study of the human microbiome. We also helped put hundreds of microsatellites in orbit as part of a school study program for kids in California.
What was one of your most meaningful projects to date?
Another meaningful project on FundRazr involved funding emergency medical treatment for hundreds of critically ill children and adults all over the world. This project really revealed the impact of what we were doing through fundraising.
In December 2010, we received a thank you card from a customer who said that the money raised through FundRazr had helped save her daughter's life. Her child had leukemia and needed emergency medical treatment. The family couldn't afford to fly her from Hawaii to the clinic in San Diego, so they ran a FundRazr campaign to raise funds to buy the tickets. Four days later they were in the air. When they arrived, the doctor said if they had landed any later, it's most likely that she would have died. Seeing this kind of impact we can make every day through our work shifted our perspective early on – "work" was no longer a four-letter word.
Any other success stories to share?
Over the last two years, I've also been invited to speak at major events including the Bloomberg Summit on the Future of Crowdfunding which was telecast on their business news network. I was also invited to do a TEDx talk on our unique approach to the fundraising market. It is gratifying to know that our startup from Vancouver is punching above our weight on the world stage.
Lastly, we were one of the 60 companies worldwide invited into Facebook's closed beta program for the development of the Timeline feature and their semantic web implementation. It was fun to see FundRazr recognized for innovation and being included in the same company as AirBnB, StubHub, BuzzFeed and Ticketmaster.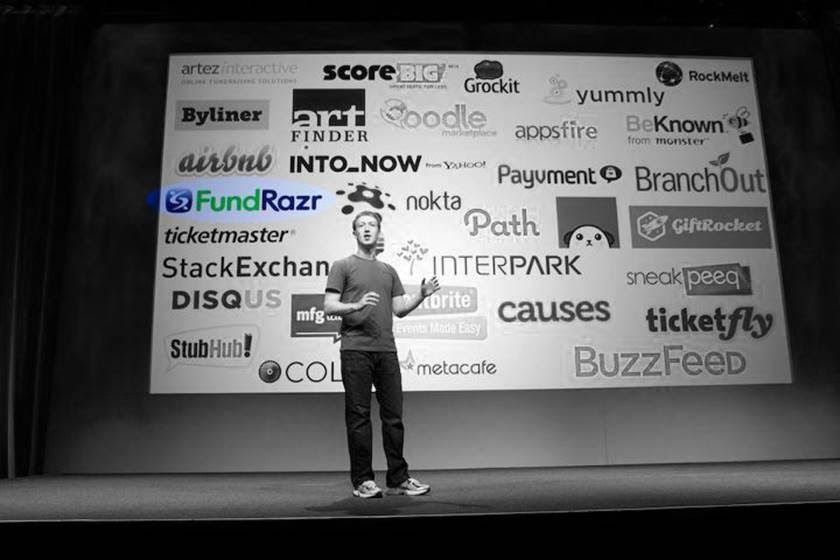 What have been the biggest challenges you've faced since the competition?
Over the past ten years, we have successfully survived multiple, massively disruptive industry, company and personal events.
In our first year of operation, we bet heavily on Facebook as a distribution platform for our fundraising campaigns. This created challenges for us down the road.
For example, when Facebook held their IPO, their business model changed completely. Since they had to monetize their platform, this meant selling ads in their Newsfeed. At the time, we were largely using Facebook to distribute campaign messages to our customers. As you can imagine, Facebook elected to downgrade our stories and prioritize their own paid content.
This had a massive impact on the visibility of our customers' posts asking their community for money. For example in our biggest month pre-IPO, we had over 20 million views of our campaign pages from traffic from the Facebook Newsfeed. In the most recent quarter, our average was about 1 million views, a 20X reduction. Yet, we've managed to improve our system to the point that the revenue generated then and now is roughly the same. This was a challenging thing to do, but just another problem we've had to solve in our journey.
Similarly, in 2018, Facebook entered into our market and started to give away nonprofit and social enterprise crowdfunding for free. We've had to hone in on what sets us apart for our customers. While we also have an option for people to raise money on FundRazr for free, we are continuing to grow our base of paying customers that want advanced functionality curated for their needs.
What's on the horizon for FundRazr, what are you looking forward to?
While our solution is a leader in the fundraising industry, we know we have a ton of things we can do to make it better. This gives us the confidence that we'll achieve our billion-dollar funding goal.
To help us get there, we'll need to raise some money to fund our expansion. While this won't be easy, I know it is important to help us scale up the company. Over the next two years, we'll likely become an acquisition candidate for some of the major players in the industry. It will be fantastic to have other people join in to help solve this problem.
2020 competition open for applications
Think your startup might have what it takes to be one of BC's best?
The 2020 New Ventures BC Competition, presented by Innovate BC, is open now for submissions. Enter by April 7.