This year our 19th annual New Ventures BC Competition, presented by Innovate BC was our biggest yet. We received a record-breaking number of applications – over 200 in fact and after six months of rigorous competition, we are excited to announce that we have a winner. Vancouver video creation platform Lumen5 takes home top honours, winning the $105,000 Innovate BC First Prize Package.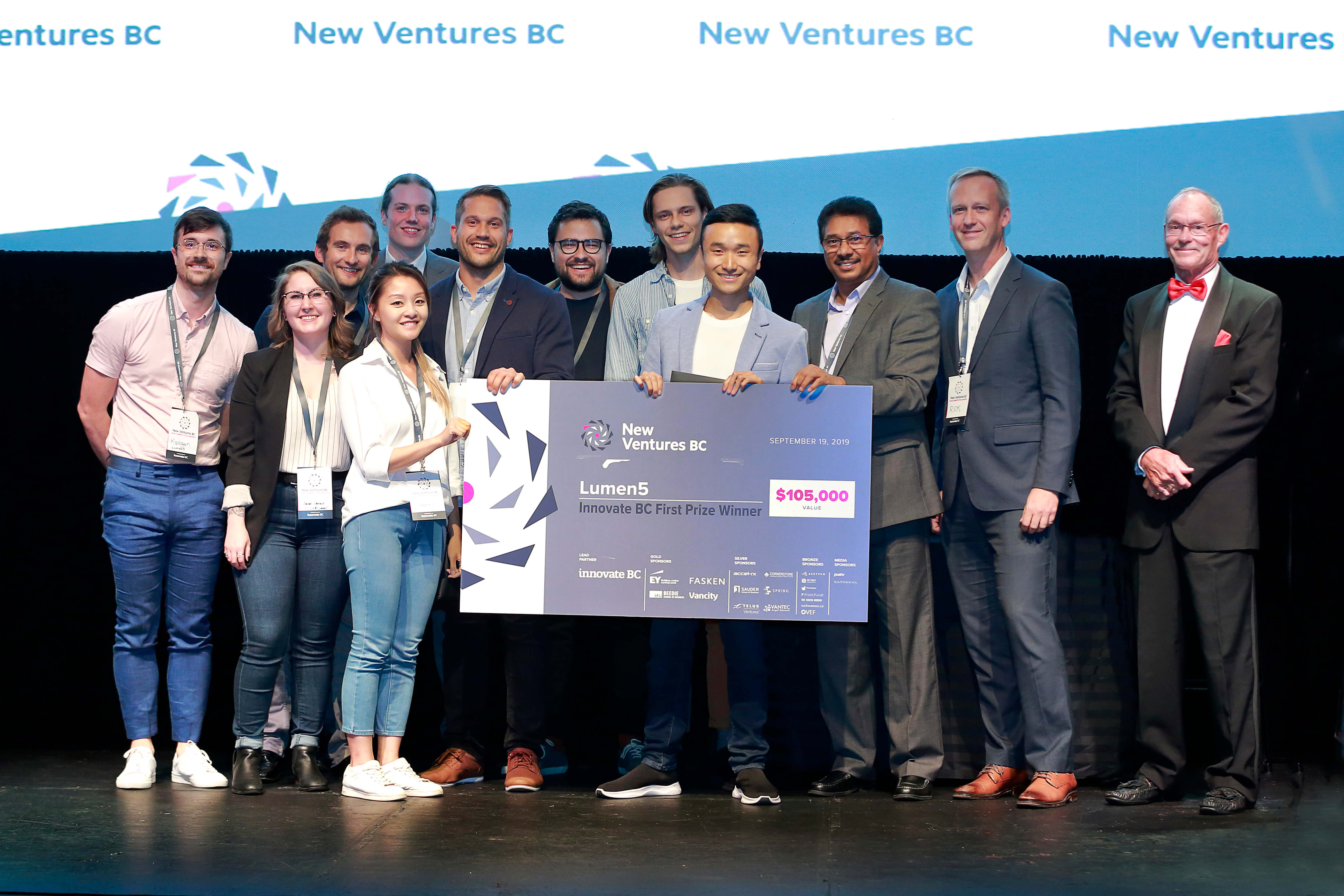 NiceJob, also of Vancouver, took home the $60,000 second-place prize for their reputation marketing application and Victoria-based Cuboh claimed the $35,000 third-place prize for their food order management solution last night at the competition's 19 the annual awards ceremony.
"Every year, I'm taken away by the strength of the companies in BC's tech sector. The diversity of ventures in this year's top 10 is a true representation of the creativity and innovation we see emerging from all corners of the province," said Mike Volker, Board Chair of New Ventures BC.
"We're proud to be supporting the industry and are looking forward to seeing this group of companies grow and succeed in BC, Canada and beyond."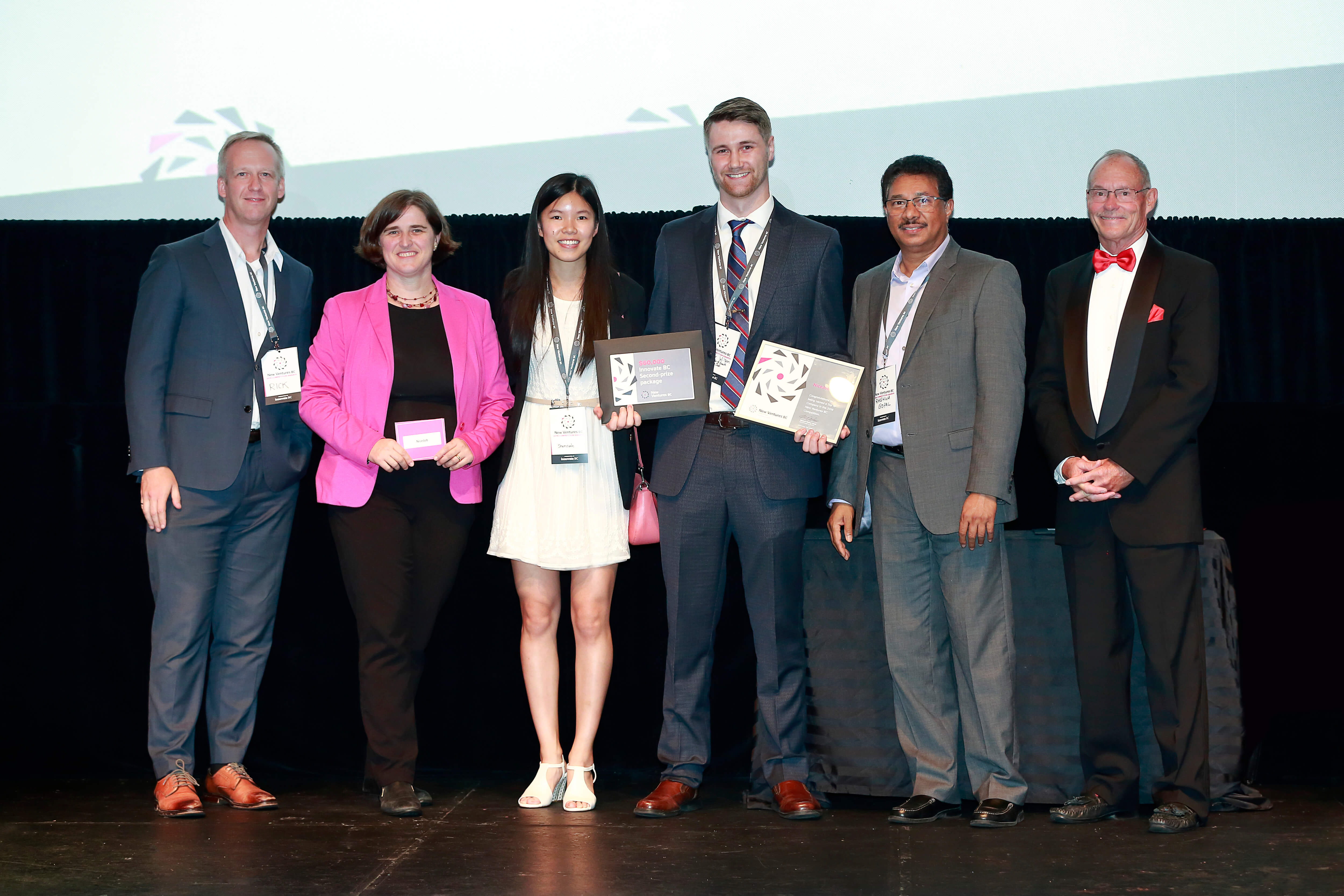 Powered by artificial intelligence (AI), Lumen5 is a powerful storytelling tool that helps businesses drive online engagement, turning blogs and content into compelling social video – in minutes. Almost 74% of internet traffic comes from video content, and Lumen5 is making it easier than ever for anyone to create engaging video content and build their online audience.
In just two years, Lumen5 has grown into a multi-million dollar business with close to 300,000 users including brands like Forbes, The Economist, Translink and the Daily Hive – without raising any capital.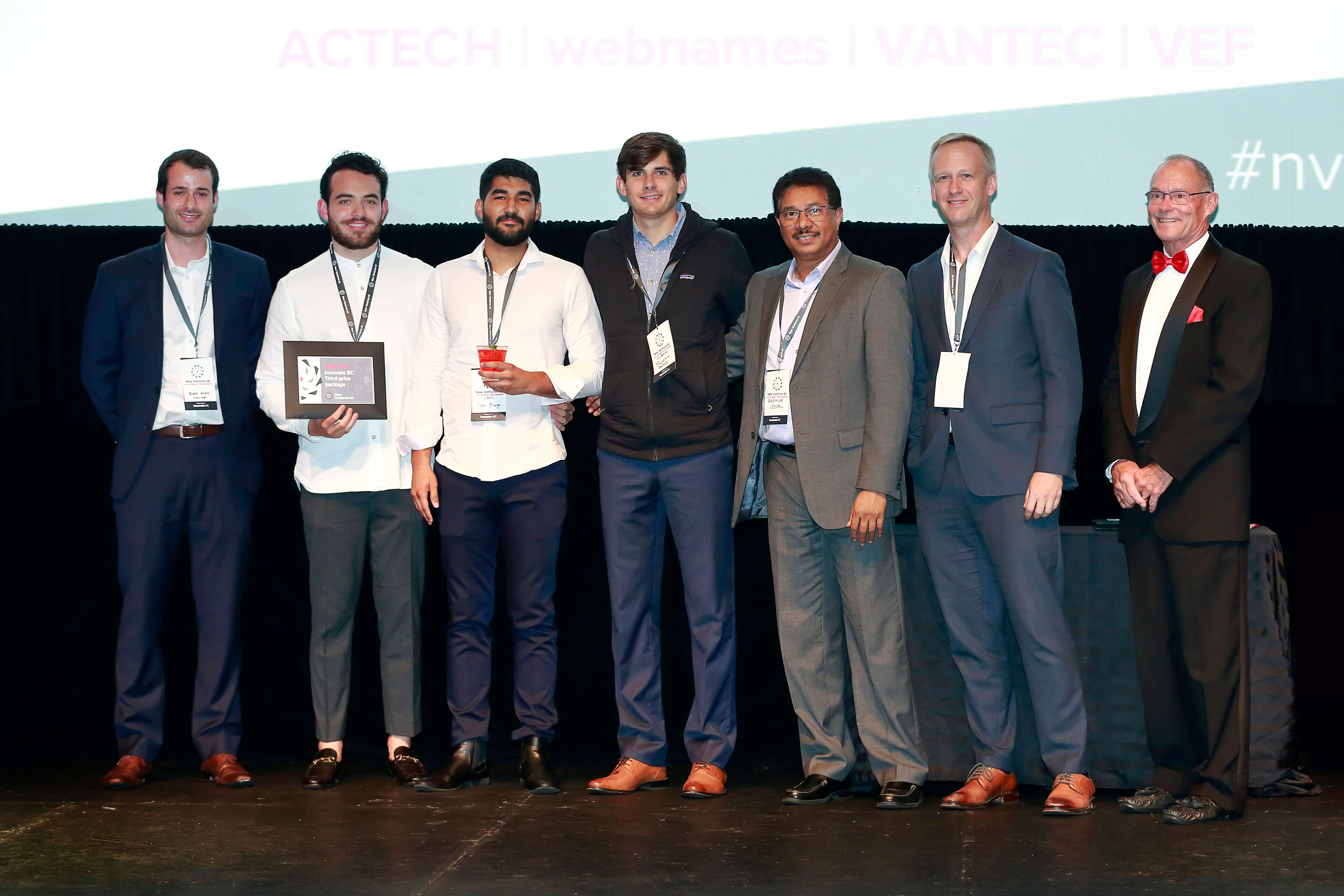 This year's competition attracted a record 200 companies developing innovative solutions in sectors including software, robotics, hardware, healthtech and cleantech. For almost two decades, the New Ventures BC Competition has awarded BC-based startups with over $250,000 in cash and prizes to grow their companies.
The mentorship and education startups receive during the competition has contributed to the success stories of alumni including Aspect Biosystems, a Vancouver-based company 3D printing human tissue, and female-led intelligent dermatology company MetaOptima – standouts in BC's thriving tech sector.
Since its inception, the competition has helped 2,700 startups create over 3,800 jobs and raise over $380 million in financing.
"The New Ventures BC competition once again showcased leading entrepreneurs who are developing ground-breaking innovations that have a tremendous impact on the way we live," said Bruce Ralston, Minister of Jobs, Trade and Technology. "Congratulations to all the winners and nominees and to New Ventures BC and Innovate BC for supporting the next generation of high-tech innovators."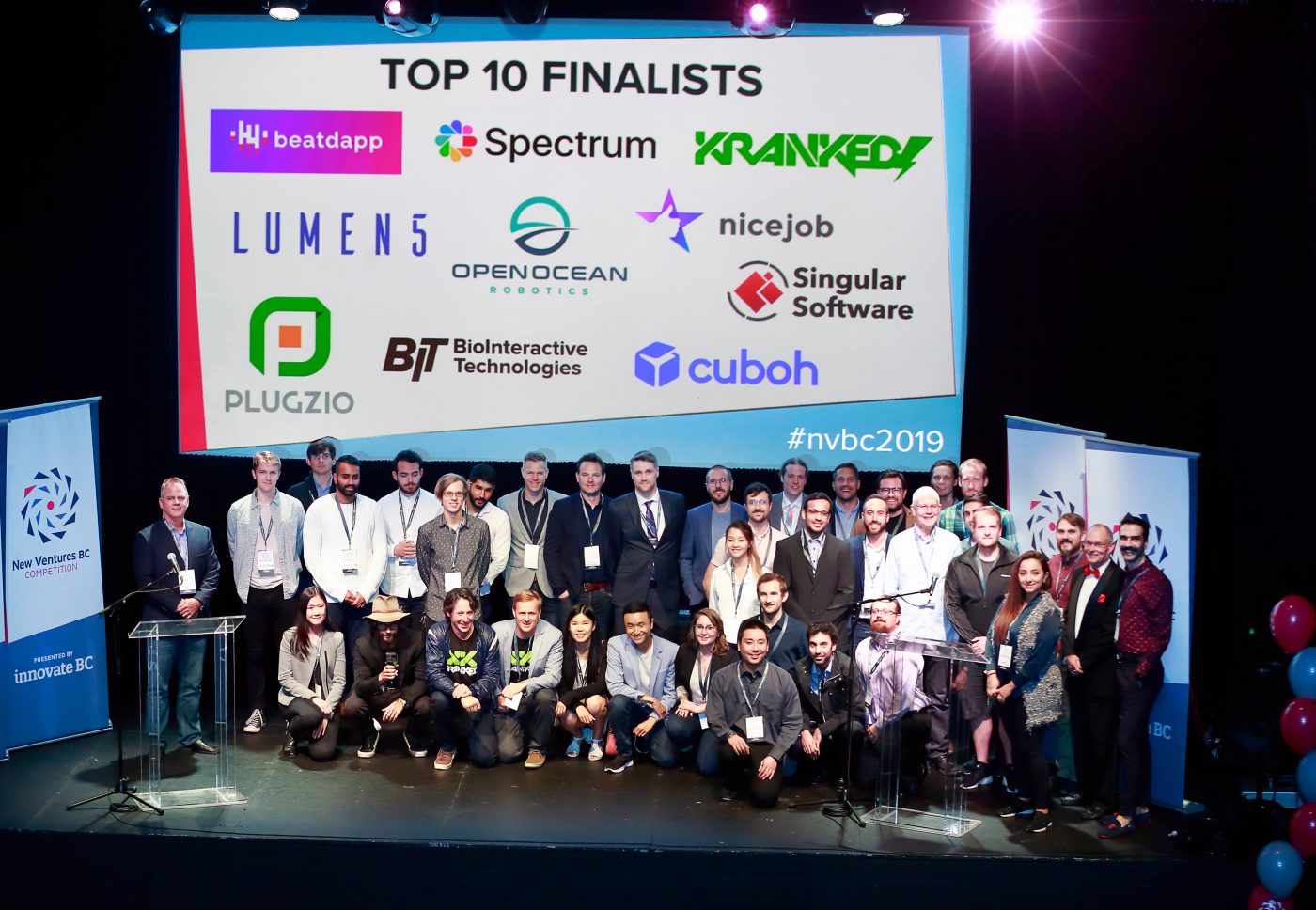 In addition to the top three prizes, the competition awards industry-specific prizes honour companies making a significant contribution to specific sectors or markets.
This year's winners are:
The 19th annual New Ventures BC Competition is presented by Innovate BC, a crown agency helping innovators in all regions of the province launch their ideas and succeed in BC's competitive tech sector."Connecting regional communities to funding, resources and support is a big part of Innovate BC's mandate and vision," said Raghwa Gopal, President and CEO of Innovate BC. "New Ventures BC is uniquely positioned to support startups all over British Columbia, which is why we are thrilled to once again be the title sponsor of this competition."
About the organizers:
About New Ventures BC
New Ventures BC runs the annual New Ventures BC Competition, the largest and longest-running tech competition in BC, awarding $250,000 in cash and prizes to early-stage startups. The organization also offers a mentored, online Venture Acceleration Program and administers the Innovator Skills Initiative (ISI) Grant, offering tech companies up to $10,000 a year to hire a student. New Ventures BC is a non-profit organization that receives funding from both government and corporate sponsors.
About Innovate BC
Innovate BC is a one stop service centre to connect innovators — large and small — with B.C. government funding, resources and support. Innovate BC programs and initiatives serve and celebrate innovation in British Columbia, helping our industries grow, while ensuring the benefits of our thriving technology sector are felt by people in all regions of our province. Innovate BC is a Crown Agency of the Province of B.C.
About the winning companies:
Lumen5
Lumen5 is a video creation platform designed to help brands and businesses drive online engagement. Using an algorithm and artificial intelligence to identify key messages and find relevant videos, photos and audio tracks in Lumen5's media database, the platform makes it easy to create videos in minutes.
NiceJob
NiceJob helps businesses share customer testimonials by automating the collection of reviews and posting them to the company's website to increase visibility. NiceJob's reputation marketing platform ensures that businesses can raise awareness and drive sales without having to lift a finger.
Cuboh
Cuboh saves restaurants time and money by consolidating orders from third-party platforms like Skip the Dishes and DoorDash into one integrated app. By bringing all online orders into an integrated hub, restaurants can ditch the hassle of managing multiple food ordering apps and focus on providing a great customer experience.
Spectrum
Spectrum is making it easier for doctors to prescribe antibiotics. With easy-to-understand clinical guidelines loaded into the Spectrum app, doctors can input patient information and receive dosage recommendations tailored to the patient's needs. Spectrum's partner hospitals have seen up to 90% increases in accurate prescribing.
Open Ocean Robotics
Open Ocean Robotics has developed autonomous, wind and solar-powered boats to collect ocean data. Using sensors, cameras and real-time communications, the boats provide a safer, more effective and more affordable way to study the ocean. Open Ocean Robotics collects atmospheric and oceanic data, including air temperature, wind speed, water height and temperature, ocean currents and marine mammal acoustics.
Plugzio
Plugzio provides an easy, secure charging solution for electric and autonomous vehicles. The company has developed an outlet that only starts the flow of electricity once the user activates it through mobile phone. Once installed, it bills the user directly and the owner of the shared space gets paid. Electric vehicle owners get access to an affordable charging solution, while business owners can easily take advantage of a new revenue stream.
Beatdapp
Beatdapp has developed a custom blockchain application that tracks real-time audited play counts of a song across streaming services. With Beatdapp, music labels can accurately track the number of times a song is played on a streaming service, ensuring musicians are compensated fairly.