Where are our accelerator clients now? We caught up with Rithmik Solutions to learn how their mentorship experience in our Venture Acceleration Program helped them go from early stage to investor ready.
In the last few months, not only has Rithmik been accepted into NextAI, they've also won the Montreal edition of Startup Canada's 2019 Canadian Export Challenge, and are ready to test their second pilot.
Interview with Kevin Urbanski, CEO, and Amanda Truscott, CCO.
Your company's quick elevator pitch: what do you do and why are you passionate about it?
Amanda: At Rithmik Solutions, we leverage artificial intelligence for predictive maintenance on mobile mining equipment. Too often, reliability and maintenance teams don't have enough information to diagnose and prevent catastrophic equipment failures.
Our Asset Health Analyzer (AHA) creates a virtual model of a healthy piece of equipment that runs alongside its physical counterpart. When operations of the equipment deviate even slightly from their ideal, the algorithms detect those deviations and provide insight so users can better judge when and how to implement repairs.
Kevin: I'm passionate about this because I see so much potential with AI, and there is a lot of potential of applying it to mobile mining equipment data. Solving problems and optimizing processes excites me.
Amanda: I'm passionate about it because I'm totally fascinated by all the transformations taking place in the mining industry right now; it's pretty thrilling to be at the forefront of all that change.
How did you come up with the idea for Rithmik Solutions?
Kevin: After taking some time off to travel, I came back to Canada not quite sure of what to do next. I happened to pick up Elon Musk's biography and have a read. It was during that time that I decided to follow the desire I've had for years to really push the limits of technology.
A colleague a few years back introduced me to AI. I did have a good idea of its potentials, but until then I never fully explored it.
I spent the next four months diving deeply into the world of AI, learning the different algorithms and techniques, and playing around with a few datasets, at which time I had the thought, "There is no other data in the world that I want to apply AI to more than mobile mining equipment data". 
I had been working with that type of data already for around eight years, and knew it so well. This kicked it all off.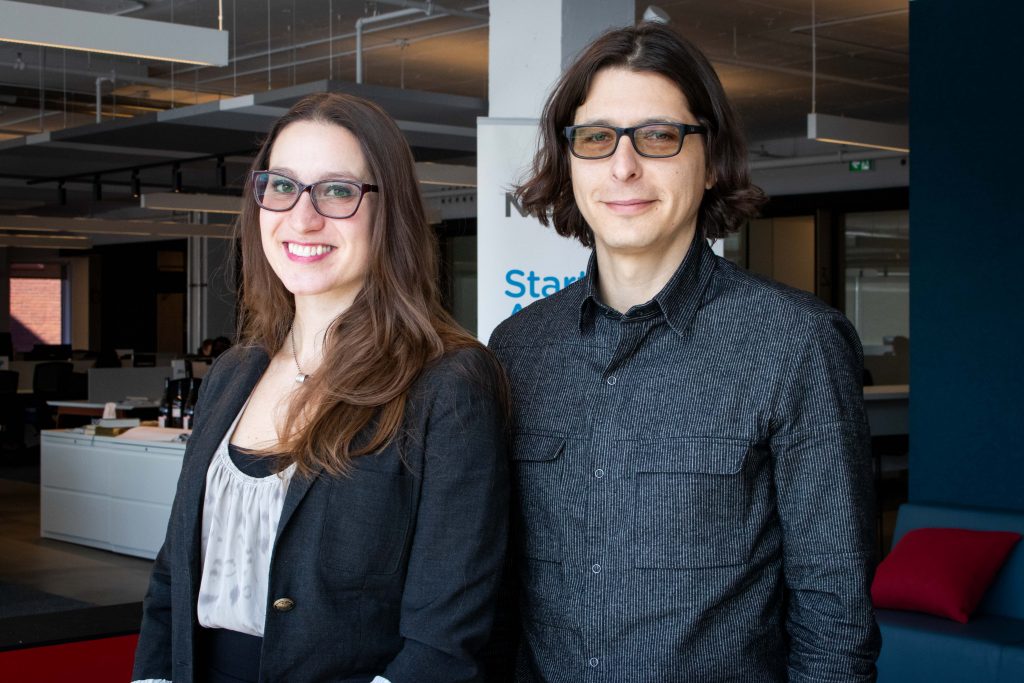 You live in Fernie: how's working on AI in a remote area?
Kevin: We found it quite isolating to work on AI within our small town in BC.
On trips to Montreal or Vancouver, there was a buzz in the air and AI communities were well on their way. On return to Fernie, it felt that life slowed down, which is also one of the beauties of calling it home.
Amanda: There are incredible things happening in Trail though, with i4C, Canada's first Industry 4.0 Innovation Hub. They've been stellar partners for us, featuring us in their events and introducing us to lots of key folks. We've also made some great friends in the Lower Mainland like Rigid Robotics, for example.
What stage was your startup at when you entered the Distance Venture Accelerator Program (VAP)?
Kevin: We entered the Venture Acceleration Program at a very early stage, just after incorporation, and having worked on building the company for four months.
What was your mentorship experience like during the VAP?
Kevin: Amazing! We had the pleasure of living in the same town as Beth Gallup, our executive in residence.
We met either at a local coffee shop or at Beth's place to go over our weekly progress and talk through some of the logjams that had developed.
It was very common to walk away from our weekly meeting feeling lighter on my feet, knowing exactly what needed to be done next, whereas just an hour before I felt clueless. This was invaluable.
As a new entrepreneur, there is so much to learn, and I couldn't imagine how things would have been without Beth. Acceleration definitely was seen!
Amanda: Ditto what Kevin said. I highly doubt we'd be where we are right now without Beth.
What was the most challenging part of the program for you?
Kevin: After learning what needs to happen next at any given time during the program, the execution of these tasks often involved putting ourselves into new positions that we've never been in, and growth and unfamiliar territory are not always comfortable.
Over time these tasks became easier and easier until new territory was met, but this growth process was the most challenging.
Amanda: Some of the feedback we got during our quarterly presentations was pretty blunt, which actually turned out to be amazing. It wasn't always fun to hear, but we pivoted significantly based on those comments and we've been super-glad we did.
You applied for NextAI and got accepted. How competitive was the process? How did the experience with the VAP help?
Kevin: The process was very competitive. The program had a lot to offer in a very happening field, so it attracted applicants from all over the world.
There were around 250 teams that applied and 25 that got accepted. We had to go through four rounds of acceptance, including a last round of four interviews before we got the final verdict.
The VAP program helped in a few ways. It helped us identify whether NextAI was for us or not, addressing the question of was it the right time for a program like this for us. But it also instilled confidence in our business and business plan that we were able to communicate to the NextAI community throughout the process.
Any updates or successes you can share since you left our accelerator program?
Kevin: Everything learned during the VAP gave us a head start in the NextAI teachings. It allowed for us to absorb more and gain deeper insights quicker. Knowing how to identify who to talk to when talking with clients, and identifying them within the buyer type framework is crucial, and the VAP really helped us exercise this muscle.
Amanda: We're now piloting our product on blasthole drills and we're ready for a pilot on haul trucks and shovels. Several investors have expressed interest in connecting after that second pilot.
We're super clear now on our value proposition, business model, go-to-market strategy, and pitch. We know there's a big market for what we're doing, and we're well on our way towards penetrating that market with a product that's unlike anything else out there.
Also, we just won the Montreal edition of Startup Canada's 2019 Canadian Export Challenge, which provides funding and scaling support for promising startups that want to go global. We'll be competing in the "Final Showdown" in Toronto at the end of October.
Any encouraging words of advice for fellow entrepreneurs?
Kevin: Have a business idea that you are super pumped about? Have an idea that you are unsure of but something is telling you to go for it? Either way, apply for the VAP, and it will help orient you as to where you need to go.
Amanda: If you have a serious passion, and you think you could turn that passion into a product that could really solve a problem for people, go for it–and don't go it alone!
Doubt is normal, and even many of the most successful entrepreneurs wake up some mornings wondering what the hell they're doing, but if you've got solid mentors, they can help you find your way through that darkness.
Applications Open
Apply to our distance venture accelerator program to get the mentorship you need to help elevate your BC startup.
Applications are now open.
Apply