BioInteractive Technologies is developing a wearable digital health solution called TENZR to help facilitate recovery from hand, wrist and forearm injuries including wrist fractures, Tennis Elbow, Golfer's Elbow and Carpal Tunnel Syndrome. TENZR is a smart wristband that tracks wrist and forearm angles and hand activity and uses that data to provide patients with guidance and biofeedback to facilitate hand therapy.
Interview with Lukas-Karim Merhi, CEO
What we do
We believe that everyone deserves the ability to complete their jobs and live their lives without pain or discomfort. Our mission is to empower individuals suffering from hand, wrist and forearm injuries by providing objective data and guidance through our wearable sensing technologies. Our product TENZR tracks how your wrist, forearms and hands and being used as well as their range of motion. This is key for patient coaching and can provide patients with a better understanding of how to do their rehab exercises and keep their hands healthy. TENZR will eventually be used to reduce the occurrence of preventable hand injuries.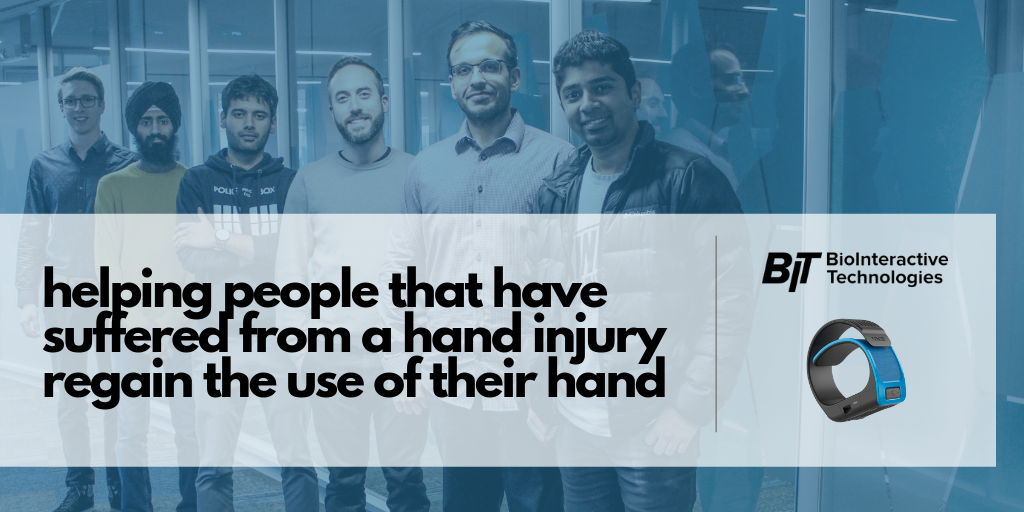 Key accomplishments
BioInteractive Technologies is supported by Techstars (2018 Anywhere Program) and Mayo Clinic (2019 Mayo-ASU Medtech Accelerator Program). We were featured twice on the Ready to Rocket list in 2018 and 2019 and recently won an investment from the Seattle Angel Conference. We've also established a partnership with Saebo Inc., a market leader in the rehab space, to bring TENZR to market.
Five years from now…
TENZR will become the gold standard in hand health and will be used worldwide to ensure patients have the guidance and feedback they need to recover from a variety of hand injuries. TENZR will also be used by those in high-risk occupations to reduce the likelihood of a use-related hand injury.
Why the New Ventures BC Competition
There were multiple reasons why we chose to enter the New Ventures BC Competition. We are excited about accessing mentorship and feedback that will help us refine our strategy and platform. Participating and advancing through multiple rounds of competition also helps us increase our brand awareness in BC and beyond. And of course, the cash prize would be very useful in getting our commercial launch off the ground sooner.
Your first influential job…
My first job was working for my family's small, health-food business. I was responsible for keeping inventory stocked in the store and leading sales efforts. Contributing to a family business allowed me to get a feel for the ups and downs of growing a business and the importance of embracing the uncertainty to persevere.
About the Founders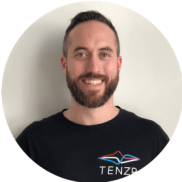 Lukas-Karim Merhi is a serial entrepreneur, well-versed in raising early-stage funding (dilutive, and non-dilutive) to enable translational research and commercial R&D. Lukas has a Masters in Biomedical Engineering (Biophotonics) and led Canada's only team to the World's first Cyborg Olympics, Cybathlon. He used the same technology that powers BioInteractive Technologies' devices to enable intuitive control of a prosthetic limb. Lukas also has experience in the Healthy Consumer Packaged Goods Space through a family business.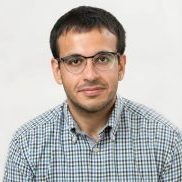 Gautam Sadarangani is well-versed with strategic management of cutting-edge R&D projects in start-up environments, the development of (Class I-III) medical devices, and IP protection. Gautam was previously the Associate Director of Systems Engineering / R&D at Lungpacer Medical Inc, a medical device company developing a Phrenic Nerve Pacing System. Gautam has a Masters in Biomedical Engineering with a focus on the core technology that power's BioInteractive Technologies' devices.
BioInteractive Technologies is located in Vancouver.
Linkedin: bio interactive technologies inc
Twitter: @biointtech