Careteam Technologies won the $17,000 Vancity Social Venture prize package in 2018. Since then, they've grown significantly in BC and expanded their market to Ontario, and they are now sold as SaaS to health care teams within large health organizations.
Interview with Alexandra T. Greenhill, Founder, CEO, and Chief Medical Officer, Careteam Technologies.
What do you do, and why are you passionate about it?
Careteam Technologies is a Vancouver based digital health company that has created the Patient-Centered Collaboration (PCC) platform essential to the future of health care. It enables coordination and navigation for patients with complex, chronic diseases across different health conditions and contexts (hospital, clinic, community and home). This reduces the complexity and fragmentation of care so that patients and families have better outcomes and experiences, better health provider satisfaction and reduced gaps, overlaps and costs.
Careteam has been recognized with the Canadian Medical Association's Joule 2018 Innovation Award and we were invited to the World Economic Forum's Annual Meeting of New Tech Champions.
Sold as SaaS to health care teams within large health organizations, Careteam is now being used in BC and Ontario and it's in the first wave of approved Digital Technology Supercluster projects (in partnership with Change Health, Telus Health, Providence Health, and Metaoptima).
What stage was your startup at when you entered the 2018 New Ventures BC Competition?
We were pre-product, pre-clients and pre-raise.
Did you expect at the time of registration to compete for the top prizes?
Following the advice of the Great One (Wayne Gretzky, of course!), "you miss 100% of the shots you don't take". So anytime we participate in anything, we always aim for the podium.
You won the $17,000 Vancity Social Venture prize package. How have you used your prize money?
We were thrilled to be selected for this award as our why is better health and better life for patients, families and health professionals.
We have known for decades that social determinants of health are a major factor in any health issue, and through our platform we can finally help health care providers address them in a meaningful way. This Social Venture award celebrated this commitment.
We used the money from the Vancity Social Venture prize package, in combination with the ISI Grant, to bring on board students in business and technology. Without the funds, we would have had to defer these hires to a later date.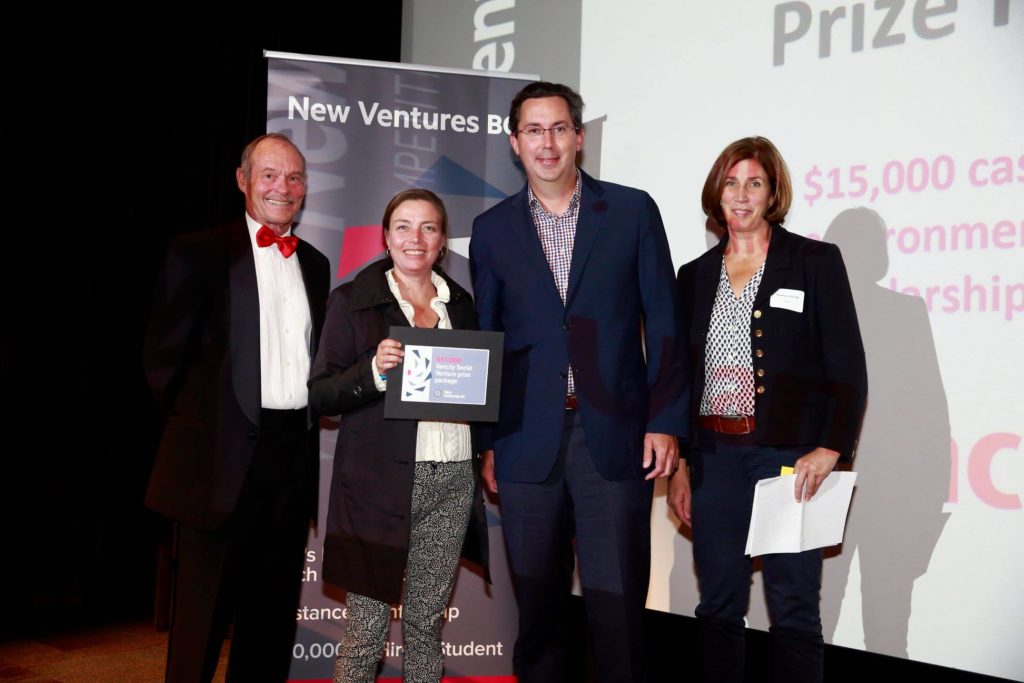 How did the competition help or contribute to your success?
We benefited a lot from the feedback we got – on both our written plans and on our presentation. In addition, we used the three mentors we were assigned to strengthen our go to market plans, which we have implemented since.
What was the best feedback from a mentor, juror or fellow competitor that you received?
We loved the feedback about creating an ideal market profile – not just an ideal customer profile. That helped us a lot in triaging opportunities that came up since and be able to explain why we engaged with some and turned down others as not strategic.
What tips do you have for this year's competitors?
You get out of this process what you put in – the New Ventures BC Competition puts you in front of many amazing advisors who deeply care about helping BC tech companies grow better, bigger and faster. You only benefit if you come prepared, listen and action their feedback.
Any other comments you'd like to share?
New Ventures BC is also helpful in tapping to a huge network of advisors, investors and peer entrepreneurs – it's easier when you have people you can call on for advice and support. The entrepreneurial journey is amazing and hard, so every little bit helps!