Mentorship is a critical component to building a successful tech startup. Although you could google any question, tweet at a business guru, or maybe even get a business degree—when building your business, you can usually save precious time (and money) by learning from someone who has been there, done that, before.
Why do most startups fail?
Research from Entrepreneur magazine states that one of the main reasons startups fail is a lack of mentorship. And supporting this, studies from Startup Genome, Forbes and the Harvard Business Review have concluded that startups that have mentors are more likely to succeed.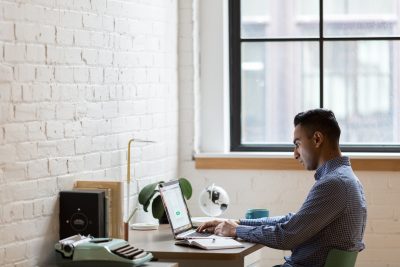 When you're an entrepreneur, making time for meetings or classes can be tough. You may not be able to leave your day job at 2pm on a Tuesday or pay for desk space at an incubator. That's why many organizations (like ours) offer flexible, virtual mentorship, available from whenever / wherever you may be.
5 reasons virtual mentoring is right for your startup:
1. You need a flexible meeting place. Is your tech startup located in a remote location? Are you constantly jet setting? No problem. With virtual mentoring you can connect online or over the phone. As long as you have internet or a cell connection, you're set.
2. You have a demanding schedule. Have a full-time job? Caring for a toddler? Finishing your degree? Or maybe a combination of all three. Virtual mentoring is flexible and fits into your busy schedule.
3. You live outside of downtown Vancouver. Your perfect mentor may not be in close proximity. Virtual mentoring allows you to connect with a high-quality mentor, even if they're just 10 – or hundreds – of kms away.
4. You crave accountability. Virtual mentoring allows you to work at your own pace. However, weekly check-ins with your mentor keep you accountable and allow you to continually move your startup forward.
5. Balling on a budget? As a startup, odds are you may not want to throw a lot of money at your idea right away. With virtual mentoring, not only do you not have to pay for a full-time program or desk space, you can also say good bye to frantically trying to find your clean business casual clothing for a business meeting. No suit? No problem. Skype lets you put 0 effort into your appearance (you could be in your PJs for all your mentor knows). You also don't have to trek downtown to pay for parking (always a plus).
Sounds good? We have a program for this.
New Venture BC's Distance Venture Acceleration Program centers around 1:1, virtual mentorship to startups across BC.
How does it work?
You set your goals: one of our three awesome mentors will help you achieve them. Each week, you'll meet your mentor over phone or skype for an hour, while working through our online mini startup school. Like feedback? Great. You'll also get to practice your pitching skills every three months in front of a panel of other mentors and peers.
Who's taken the program?
In the last year and a half, we have mentored over 40 early stage ventures – everything from Fuud a meal-kit company that focuses on organic and local ingredients. Locelle a networking app for women to meet network and meet like-minded other business women. Even Walletcard, a workplace training records and safety compliance solution.
Here's what our current clients have to say:
"The program is worth at least ten times what we spend on it. It's not just the mentorship – it's the feedback we have received from all the mentors. The course material has also been very helpful; now we know how to determine exactly what our customers want and how to tell them once we've created it. Opportunities are flying our way at incredible speed, and thanks to the program we know which ones to take and which ones to pass on." – Kevin Urbanski, CEO & Founder, Rithmik Solutions
"I found that doing a distance mentorship program is like having my own secret weapon in my back pocket: invaluable advice from a mentor who has been in my shoes. The advice my mentor has given me has kept me on track. The weekly check-ins have also prevented me from wasting resources and making mistakes by helping me make better choices". – Yawen, Founder, Ballegro Player
"Being part of the program over these past months has really pushed our team forward. The weekly meetings with my mentor have been amazing. Having that amount of support, expertise and a different perspective, has been critical to not only the company's growth but my own personal growth as an entrepreneur." – Lori Munoz Malcolm, Founder, HeartPress
Apply or learn more
Think virtual mentorship is right for your tech startup? Apply here to our Distance Venture Accelerator Program.