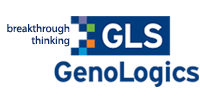 2003 New Ventures BC 2nd prize winner Genologics quietly completed their 3rd round round of financing late last month adding another $5 million which will be applied towards ongoing expansion plans. This latest round of financing was led by OVP Venture Partners of Seattle with support from Growthworks and Yaletown Venture Partners of Vancouver.
Since 2005, the privately-held Victoria headquartered GenoLogics has attracted more than $17.5 million in investment from leading venture capital funds and strategic partners.
GenoLogics' major investors include OVP Venture Partners, Yaletown Venture Partners, Growthworks Capital, and Tech veteran Don Listwin.  GenoLogics also benefits from the involvement of several of North America's most accomplished life science and technology executives as angel investors.