BMO Bank of Montreal First Prize Winner
Resonance Technologies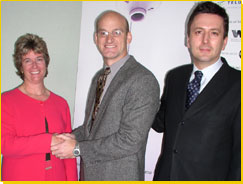 Construction crews will soon drive foundation pilings through the earth quickly and efficiently using sonic vibrations. Resonance Technologies' high frequency sonic device represents a revolutionary leap in pile driving, drilling and soil compaction technology. Burnaby geotechnical engineer Matthew Janes of Resonance Technologies predicts his firm's patented technology will completely replace equipment currently used in the foundation construction and oil services industries. He says it's efficient and simple to use – a crane simply picks up the sonic device and a worker attaches it to a foundation piling. When the device is turned on it creates a unique resonance in the piling that vibrates the earth apart as the piling is driven into the ground.
"It's 10 times quicker than a conventional impact hammer," says Janes. "It has only two moving parts, with a central rotating valve in an external vibrating casing."
Second prize Winner
GenoLogics Life Sciences Software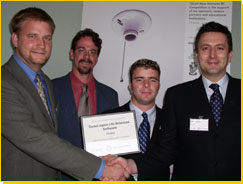 In the growing biotech industry there's a paradigm shift as new "high-throughput screening" technologies use robots, instruments and high performance computers to generate massive amounts of data from experiments. How can these large volumes of data be managed? GenoLogics has the answer with ProteusLIMS, a new laboratory information management system targeted to the proteomics market, where scientists use high-throughput screening technologies to undertake massively complex studies of proteins. It's an emerging, fast-growing market where scientists require data management systems that are up to the job, says James DeGreef, a Victoria resident and co-founder of the company.
This is GenoLogics' second run through the TELUS New Ventures BC competition. "Last year, we were too early stage and we didn't have a good team put together," says deGreef. "Since then, we've learned a lot and we're now executing on our business plan."
Third Prize Winner
Stelix Technologies Corp.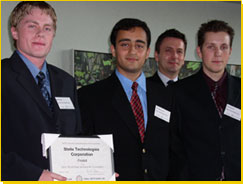 Stelix's award-winning product, Infiltrator™ prevent thieves from walking away with laptops and other portable equipment. Using a patented wireless technology, the device includes a small base unit attached to the laptop, which communicates wirelessly with a remote keychain carried by the owner. The device constantly monitors the owner's proximity to the laptop, using a code unique to each owner.
"Step more than five to six feet from your laptop and if the base unit is moved, it will set off the alarm on your keychain," explains Hani Mehrpouyan, the firm's CEO.
He says the trio came up with the concept while trying to think of a security device that was simple to use, without the physical hassles of locks and cables. The device has won three awards at student engineering competitions.