When you're an elite athlete, fit and equipment can make all the difference. Kevin Priebe, CEO of Society Wheelchairs in Maple Ridge, saw an opportunity to use data and technology to increase the comfort and performance of custom wheelchairs and sports equipment. Using the ISI grant, Kevin hired SFU Science student (and fellow athlete) Jazz Chew, to help him with just that. 
Interview with Kevin Priebe. 
Can you tell me a bit about your company, and what you do?
We create sports equipment for elite athletes and custom-fitted wheelchairs.
I've been in a wheelchair since having an accident in 1993. Early in my career, I created special effects for films, then proceeded to build my own full wheelchairs and sports equipment, working with other athletes who needed specialized equipment to maximize performance. 
What problem does your company solve?
The #1 thing I realized is that people are not fitted properly in their wheelchairs; it can be a difficult and overwhelming process to find the right fit. 
If you go hiking and don't wear the right shoes, you'll get serious blisters— that's a simplified view of what happens in a wheelchair that's not fitted properly. Years and over a lifetime in a wheelchair, having a piece of equipment that's not fit properly can dramatically change someone's quality of life. Sometimes in this process, you don't realize the problem until it becomes really severe. 
Helping people avoid this, while maximizing their performance, improving their quality of life, and seeing our clients doing the things that they love is so rewarding.
How did hiring Jazz help your startup? Why hire a student?
My goal was to rethink the process. That's why I brought Jazz on board. He helped me complete the final assembly of our ultralight titanium prototype wheelchair for a client. We also worked on a prototype for an electrified off road wheelchair scooter quad bike for a client. It involved a fair bit of disassembling and retrofitting with the motors. We work closely with our clients to gather data and continually improve the equipment for them.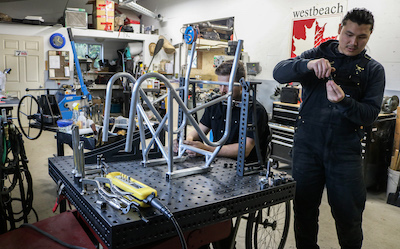 What did you learn from each other?
Jazz was my first employee–it was a really big step for both of us. A lot of times we'd have a meeting where we'd talk about things that we're going to achieve business-wise and how we would communicate with the clients better. We did SR&ED work, R&D work, and it was always a collaborative process.
We complement each other so well that one day Jazz was like, 'the two of us working together make one person'. It was so great having him on board!
What was the most rewarding part about working with a student?
It's hard to find the camaraderie, and Jazz was helpful putting the final touches on the wheelchair that we're delivering. Working with a young mind is really great–he would look at stuff from a newer perspective, and ask me honest questions. 
I love that feedback, him asking 'Hey Kevin, how do you want me to do this?" As an entrepreneur we're alway focused on moving forward, so it's helpful to stop and take a step back and look at things, and work on the ideas. It also helped me to see his fresh perspective.

How was the application process for the grant?
Everything and everyone we dealt with has been really great. In addition to the ISI grant, we have a student through the Mitacs Business Strategy Internship Program helping with our business strategy.
This year we also participated in the New Ventures BC Competition. We got to talk with industry professionals about how to move our business forward, and rethink our business plan to make  sure we're moving forward in the right direction. The business knowledge and education we received through the competition is an invaluable key to our future success.  
What's Jazz up to now?
He and his wife just got married, and she was training for Tokyo for para rowing. Unfortunately she can't compete because of the pandemic this year. 
Being an athlete is like that though, sometimes you go to an event and it might not be your day, but you train for success, the what ifs and what might happen. The goal is always achieving excellence. Only a few people in the world can even become Olympic athletes. Just the mindset of achieving excellence is a huge goal in itself. 
Get on the ISI grant waitlist
Looking to hire a student for your company? The ISI grant is open for applications.
Apply online