We interviewed past accelerator participant Humaira Ahmed, Founder and CEO of Locelle to find out more about her recent startup milestones, how she learned to conquer fear, and what it's like to be in our accelerator program.
Quick elevator pitch: what do you do and why are you passionate about it?
Humaira: Locelle is a social networking platform that empowers women through connections. The platform provides women an easy and safe way to grow their network of like-minded women and gain access to female role models and mentors in their area. We found that midway through their careers, women drop out of their jobs in STEM fields, due to feeling isolated or because the "bro-culture" wasn't inclusive or made them feel like they did not belong.
How did you come up with the idea for Locelle?
Humaira: After I had my second daughter, I started to feel isolated again.  As a working mom, I didn't have the network to share my challenges with or gain the advice I needed to thrive and advance in my career. In the past decade, I had also quit my jobs in tech a few times because of the feelings of isolation and "not belonging" I had. I found myself wondering, how do I get back into the workforce and actually progress? I sought advice from women within my existing network however, many of them had similar experiences to mine.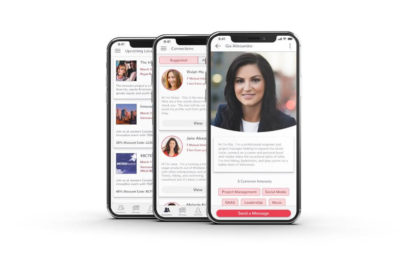 I started reflecting upon my career and one theme remained consistent: I could not remember a time that I did not feel isolated. Isolated because I did fit into the "boys club", isolated from other women because they were not many women in the industry or at the companies I was working for. Isolated when I attended networking or work-related events where I would predominantly meet other male industry professionals.
After connecting with some of these men in person, I would receive a message from them via LinkedIn to go for coffee. In these moments, I found myself questioning; were these men interested in connecting over our similar professional experiences or was this just an advance?
I began to think how can we as women, lead and connect with one another in male-dominated spaces and that's when I came up with the idea for Locelle.
What stage was your startup at when you entered the accelerator program?
Humaira: When I began NVBC's accelerator program I had nothing more than an idea. After just six months in the program, I went from an idea to a value proposition, took on customer discovery and developed a product.
What was it like to have a mentor?
Humaira: Having Ean Jackson as my mentor was an amazing experience. He played an instrumental role in helping me solidify that my app was only going to be for women. Throughout my time in the program, Ean was very supportive, but he also challenged me – not by pushing his own opinion or telling me to stop what I was doing – rather, he encouraged me to validate my assumptions through customer discovery and trial and error.
You joined Viatec and NVBC at the same time. Why both, simultaneously?
Humaira: I have always believed in the power of having multiple mentors. Near the end of 2017 I was looking for mentorship In Victoria but Viatec was not accepting new companies. I found NVBC accelerator program and knew it would be a fit, since I could complete the coursework remotely.
After a few mentor meetings with Ean I was able to put a pitch deck together, which helped get me accepted into Viatec in early 2018, then stayed in both programs for six more months. Eventually I decided that although having multiple mentors was fantastic, I needed to focus on one program. It was great how both programs were able to complement each other and help me when I needed it.
Any updates or successes you can share since you left our accelerator program?
Since leaving NVBC's program last June, the public beta version of our app launched! We've also grown significantly – we're constantly upgrading our app to make it better for our 900 users located in BC, Seattle, Toronto and Ottawa.
We just secured a BDC loan that gives us 14 months of runway. We are working with some well-known clients such as VanHack, Women in Tech, Schneider Electric, Microsoft, Flytographer and RingPartner. To support our clients and growth, our team has also grown to four.
In terms of recognition, Locelle was selected as 1 of 8 companies for the SASS North Awards, "One's to watch," at the BC Tech Summit, feature startup at the Toronto Collision conference, and nominated as a finalist for two Viatec awards: emerging leader in tech and startup of the year. I was also nominated for this year's RBC Canadian Women Entrepreneur Awards and received an Honourable Mention at the 2019 Startup Canada Awards in the Woman Entrepreneur category.
By leading with authenticity and inclusion we have been able to make some amazing connections with executives at Bumble and Plenty of Fish who have championed us.
Any encouraging words of advice for female entrepreneurs?
Do not be afraid of the fear of failure: view it as a way to become more resilient. Developing Locelle over the past year has been a roller coaster experience. Throughout this year, I have learned to not only tackle the obstacles that have come my way, but I have grown to understand that good things can come out of failure.
If had a penny for every time someone told me I would fail in the last year I would be a millionaire. If I can do it – so can you. Do not let fear stop you. Look fear in the eye and say, "I know you are here fear, but we are on this journey together. I am in the driver's seat, so I am making all of the decisions." Acknowledge fear but do not let it block you.
So much needs to change for women. Having a trusted network is one of the ways we can uplift and support one another.
Applications Open
Apply to our distance venture accelerator program to get the mentorship you need to help elevate your BC startup. Applications are now open.
Apply