WalletCard's SaaS solution addresses workplace safety training and certification tracking for traditionally 'blue-collar' type industries, including warehousing, manufacturing, utilities and construction. It helps employers and employees move paper record keeping to a cloud-management system, making it easy to track, re-issue and verify employee certification within a unified platform.
"Go out and talk to customers! Without knowing their needs, you're likely starting in the wrong place." – Advice from Naveen Nand, CEO, WalletCard
Vancouver's WalletCard is back in the competition for the second year running, having placed just outside of the Top 25 last year. Co-founders Michael Prince, Quinn Spicker and Naveen Nand are back after successfully commercializing their full software product. They've recently acquired multiple, paying customers and have training partners using the platform.
WalletCard aims to take the headache, and backache, out of employment certification. The system centralizes workplace training and certification management tracking practices between training providers and employers to ensure employee training and certification is kept-up-to date. This helps keep businesses regulatory compliant, while keeping workers safe.
The startup came about after Michael and Naveen's friend had a 'George Costanza' style experience–he fumbled through a thickly stacked wallet full of certificates overflowing with paperwork that was required to perform his job legally and safely.
"This was our light bulb moment," comments Mike. "We recognized that his pain was just the beginning of many struggles for industries trying to track and manage employee training records and certifications."
After some research into industry standards, the co-founders discovered that many employers, particularly safety professionals, were using spreadsheets and paper to 'track' their employees' certification status. "They were doing their best to keep employees safe and their company regulatory compliant," comments Naveen. "However, with paper based filing and spreadsheets, training often gets missed or falls through the cracks, resulting in accidents, injuries, missed work, legal issues and costly administrative penalties."
"We wanted to give everyone in the workplace a way to properly manage their certifications and track training records without worry, so that's where WalletCard's journey began," he says. The three started their SaaS venture in June of 2015.
Increasing workplace safety through automation
By moving paperwork into the cloud, WalletCard creates an ecosystem where trainers digitally create and issue verified certificates that can be tracked and managed by employers and workers. The platform sends automated notifications when expiry approaches, which increases timely recertification rates, keeps workers and employers regulatory compliant, and protects employers from potential safety breaches.
How does it stand out from the competition? "WalletCard isn't just a digital certificate database, it's a one-of-a-kind Certification Management Platform," says Michael. "Our features are focused on collaborative risk reduction to ensure all key personnel involved in the certification process are digitally connected," he says. "We're passionate about reducing employers' and employees' headaches while increasing safety on the job."
When asked about their first ever jobs, Naveen commented "Technically, my first job was delivering newspapers in elementary school… looking back,  I suppose that is kind of ironic considering now we're a paperless company."
About WalletCard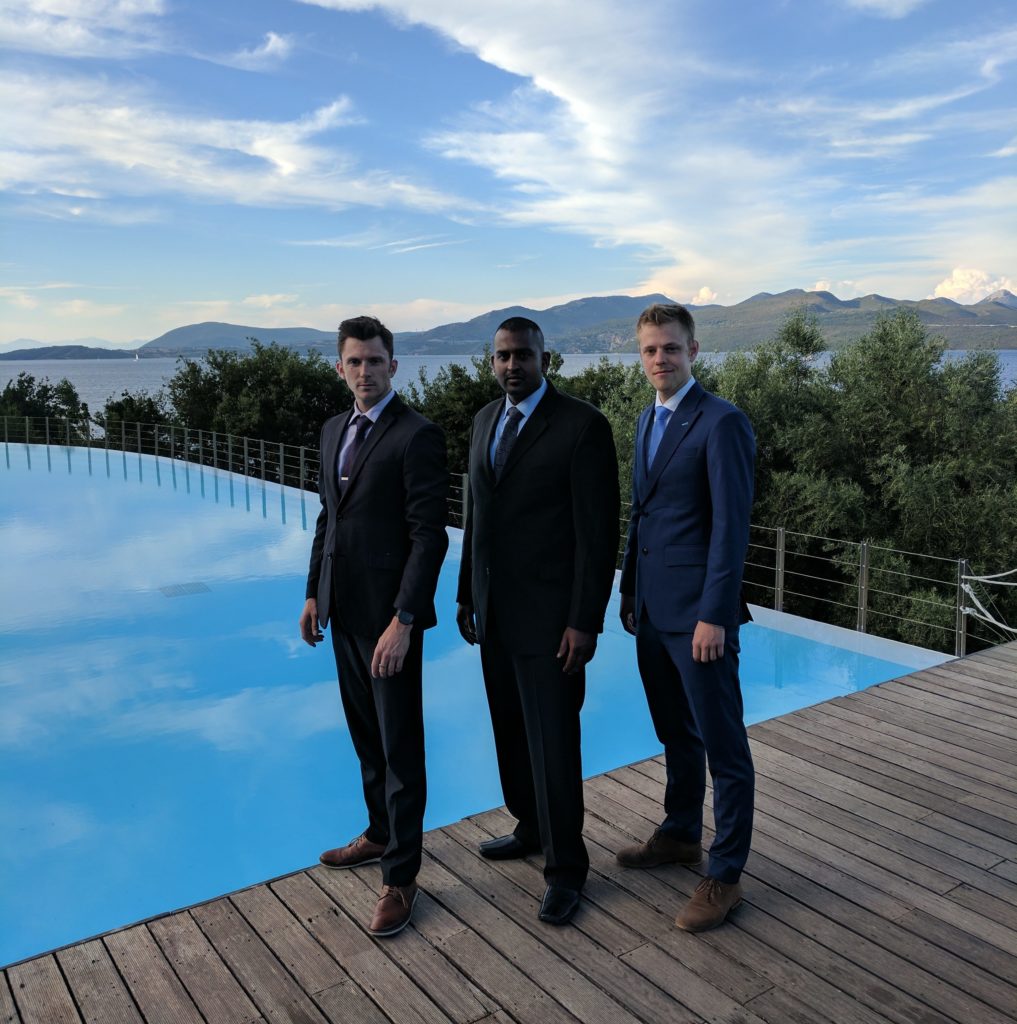 Naveen Nand – Co-Founder, Chief Executive Officer
Naveen is an experienced salesman and a passionate businessman. He boasts a wealth of knowledge in the health and safety industry with over 15 years experience, including operating a safety training company in North America and effecting change in heavy equipment best practices by working in conjunction with the provincial safety authority WorkSafeBC. Naveen is also a director for a non-profit group (Canadian Material Handling & Distribution Society) that is highly regarded in the warehouse and logistics industries.
Michael Prince, BA – Co-Founder, Chief Growth Officer
Michael received a BA in Psychology from Kwantlen Polytechnic University. He has held various management positions with numerous well recognized west coast hospitality brands. He brings in-depth experience regarding corporate and franchise operations; his dedication in customer service excellence has earned Michael a strong reputation as an effective leader. Michael's experience extends to B2B growth strategies,  sales & marketing, recruiting, franchise expansion, and strength in people.
Quinn Spicker, BFA – Chief Technology Officer

Quinn specializes in Ruby on Rails development and responsive UI design, with 7 years of professional experience working with scaling businesses. He received a BFA from Simon Fraser University in the Faculty of Communication, Art and Technology, and was selected as one of Surrey's Top 25 Under 25 by the Surrey Board of Trade. Quinn is particularly passionate about technology and startups, and in 2013 he completed "The Foundation" — An intensive 6-month, limited-membership entrepreneurship workshop focused on Software as a Service (SaaS) Companies. Prior to WalletCard Quinn worked as Lead Developer for the London, England-based video marketing startup SnapCell.