Orello is making hearing healthcare more accessible. Their uniquely flexible hearing aid can be custom-fit to any ear, before being tested and tuned with the aid of an app. The startup aims to finally put hearing aids in reach of the millions of people who are currently lack an affordable, comfortable option.
"You are not your target customer. You need to get out there, hustling, and talking to your target customer to make sure you're building something they will love." – CEO William Brenner's favourite piece of advice
Untreated hearing loss is a huge problem across the globe, and the current hearing aid market is meeting less than 10% of global demand. Orello's technology aims to get custom-sized, affordable hearing aids to those who are currently going without.
The team, consisting of Co-Founders William Brenner, Julius Michael, Eunice Kuatsjah, and Abdul Smazov, founded the startup as part of the Technology Entrepreneurship Program at Simon Fraser University. They started the venture in 2016, after being inspired by a story that Eunice told about her grandmother.
"Eunice told us about her grandmother in Indonesia, who struggled with her expensive hearing aid. That's when we started looking into the industry–we really want to do our party to try and solve this problem," comments William Brenner, CEO.
Orello started as part of the Technology Entrepreneurship Program at SFU (techE@SFU). TechE brings senior entrepreneurship students together with senior students from Mechatronics Systems Engineering to create a venture. Along the way, students receive mentorship, class instruction, and prototyping funds.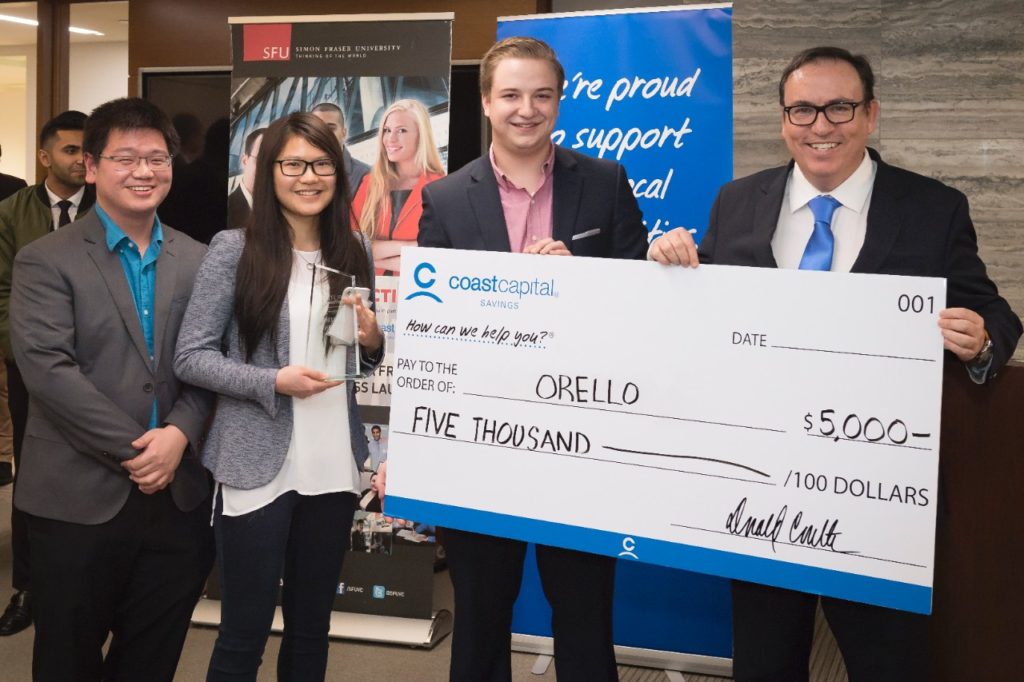 So far, the team's biggest hurdle to overcome has been facing the unique challenges of starting both a hardware and medical device business.
"At times, facing all of the complexity can feel overwhelming for a young founder team," comments William. "But it is a challenge we've enjoyed so far, and have been successful in facing," he says.
Compared to the competition, Orello is the only company developing a hearing aid that anyone can custom-fit to their own ear. Typically, since a hearing aid is worn for 8-16 hours at a time, and every ear shape is unique, the approach has been to customize each hearing aid to ensure all day comfort.
One of the team's most exciting accomplishments to date? Being accepted into the Next36 accelerator program in Toronto. "There were over 1,000 applicants this year, and we were recognized among 44 of the most promising young founders in Canada," William says. "It was really an exciting moment for us."
When asked about his first-ever job, William comments about his time at a print shop, and how it instilled in him the work ethic he has today.
"To help put myself through University I worked in production at a print shop. The hours were long and the work was tough but in instilled in me a culture of hard work and finding a way to get the job done. I carry that into my role now at Orello."
About Orello
William Brenner (BBA), Julius Michael (BBA), Eunice Kuatsjah (BASc), and Abdul Smazov (BASc) are part of the Technology Entrepreneurship Program at Simon Fraser University.