We caught up with last year's BCIC First Prize Package winner, Microdermics, to see what they've been up to since the competition. CEO Grant Campany shares their great financing news, tips for this year's competitors (take your time!), and explains how their 2016 prize money helped finance their shiny new lab at UBC. And yes, that's where they proudly display their giant cheque.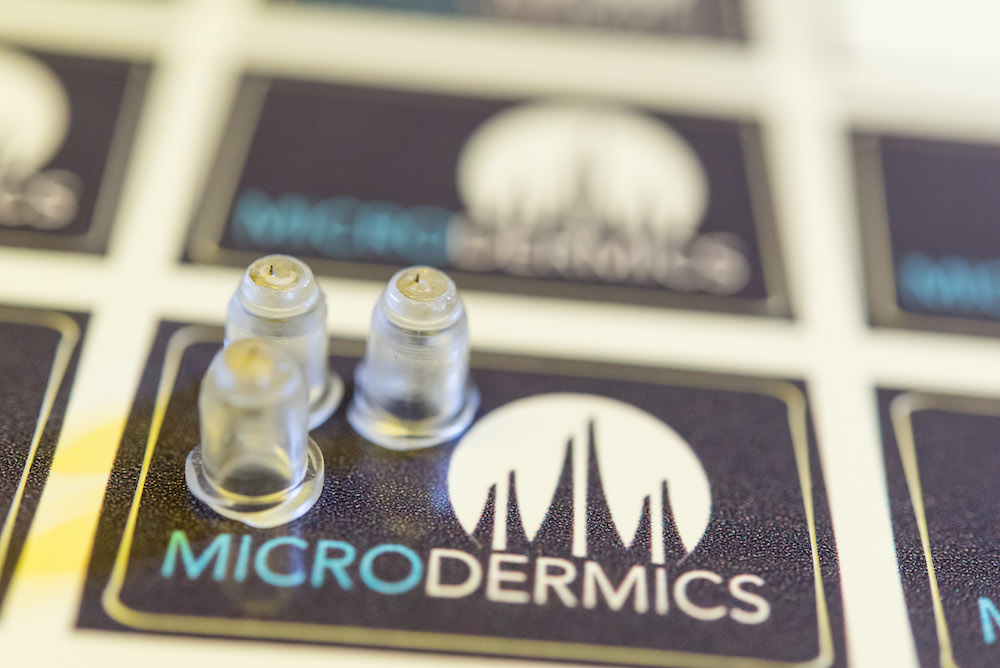 Tell us a bit about your startup and what you offer. What inspired the concept?
At Microdermics, we're focused on eradicating the global reliance on hypodermic needles as the primary instrument used to deliver both biologics and vaccines. When you consider that billions of people rely on this 160-year old device, it's very antiquated. Our goal is to eliminate the world's reliance on the hypodermic needle by focusing on a safe and cost-effective way to deliver vaccines and biologics through skin rather than into the muscle without the pain and fear associated with hypodermic needles.
Different variations of microneedles have been around for over a decade, but the fabrication process to achieve commercial scale has been the primary challenge. We are the only company in the world to have a commercially scalable process to manufacture metallic microneedles. Our competitors create microneedles out of silicone—which is a brittle material and expensive to manufacture—and plastic, which is not very user-friendly, since users experience pain associated with injections.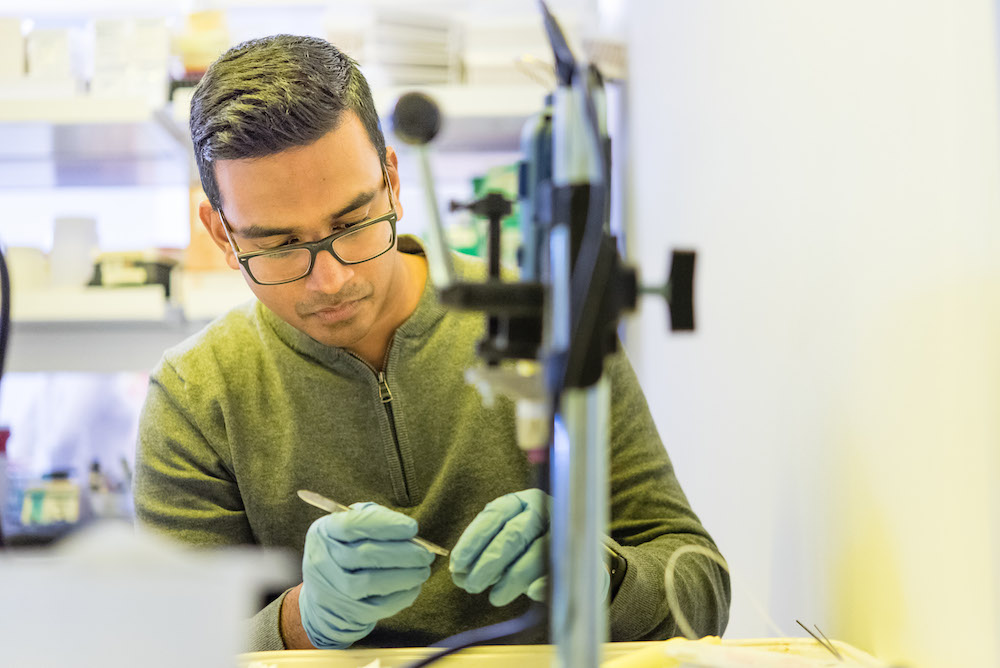 Describe what stage your startup was at when you entered. Did you expect that you would be competing for the top prizes?
We were at the pre-seed stage, just beginning to build our business plan and set a direction for the company. When we applied, my expectations were relatively low—I didn't expect there would be many people who would appreciate what we're creating, since most investors are looking for short product commercialization paths and we are required to satisfy certain regulatory requirements (CHA, FDA, etc.) We didn't have high expectations, but we put in our best efforts, from a strategy perspective.
How have you used your prize money and services?
The prize money came at a perfect time for us. We were in the midst of closing a convertible note—a bridge loan to get some capital into the company to start development work, prior to raising the seed round.
The $80,000 in cash was well received—we had just secured lab space at UBC. We used it to buy lab equipment and develop our own clean room, assets we needed to set the foundation for our company to fabricate our own prototypes for testing.
Since then, we've been waiting for the right moment to use the in-kind services. The CDRD prize is being used for a research project, which is in progress now. We'll likely use the video services when we finalize our product design work, to create a promo piece. The services are going to be tremendously helpful in the future.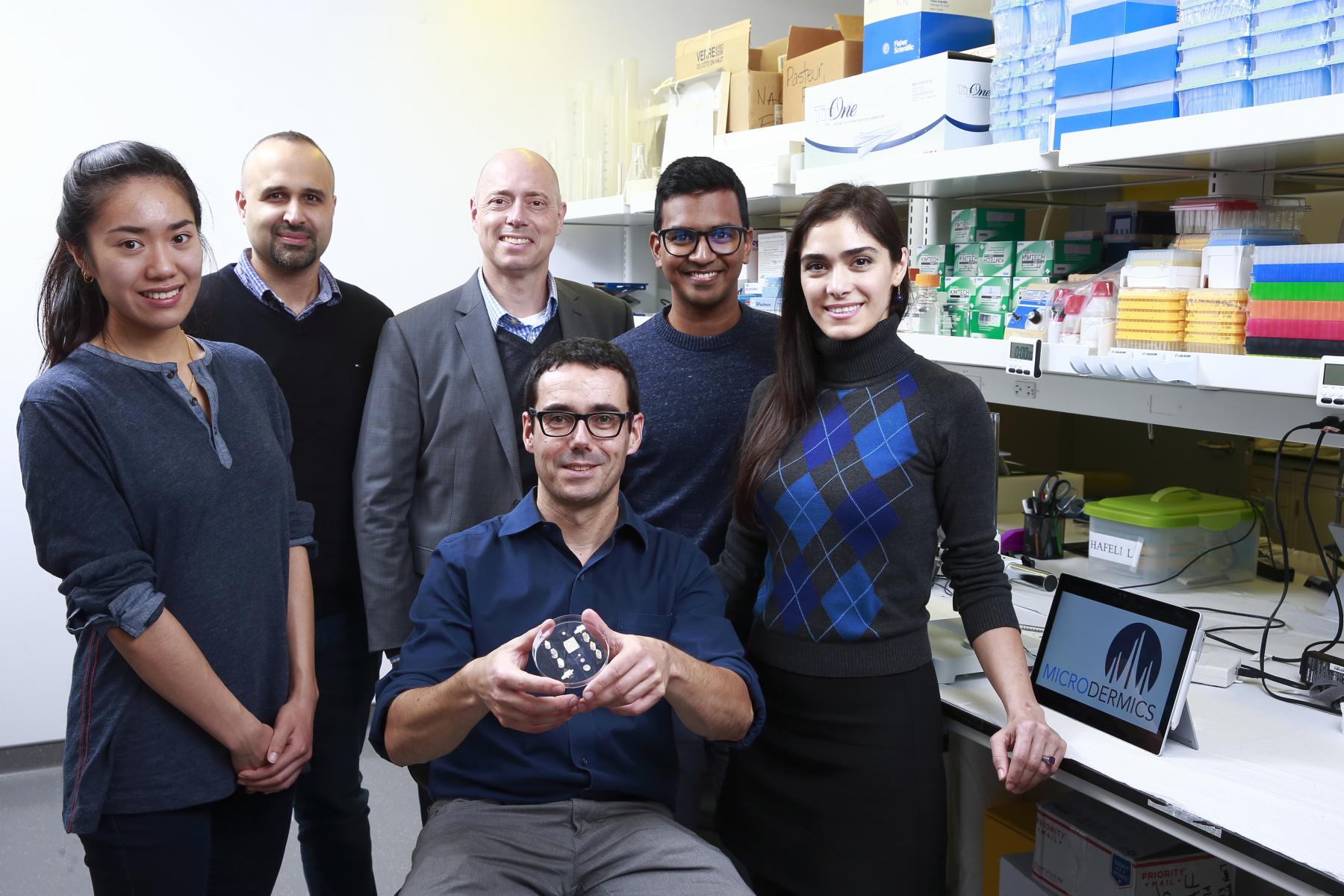 Any updates or successes you can share since completing the competition?
We just closed a $1,000,000 seed round a couple of weeks ago and hired staff members who are equipped and focused on achieving downstream milestones. We've hired vendors in BC and Quebec for some project work, primarily in scale-up relating to manufacturing.
Recognition was a huge piece. After the competition, media started calling us—we received a lot of PR opportunities that we wouldn't have gotten otherwise. Then, a number of individuals and investors expressed interest and companies started contacting us for collaborative meetings. We received really good exposure.
The competition also gave us a lot of credibility from a validation standpoint—we know we've been reviewed and compared to a lot of other startups. We proudly displayed the cheque in our lab—people ask about it, and recognize it. The cheque is a great reminder how hard work pays off, and what we can accomplish together as a team.
We have a great team, and the competition was a great bonding experience for us. We started working together just six months before the competition. We were a fresh startup – the company was incorporated in 2014, and I didn't start until a year ago. When we applied to the competition I was only involved for three or four months.
We started with the four founders working part time until a year ago, since then we've hired four full-time staff plus two of the original founders. We have eight full-time people right now, and a number of consultants, plus two seasoned advisors to the company.
What's the best feedback from a mentor, juror or fellow competitor that you received?
A lot of the feedback during the judging process was just about adoption rate of a new medical device in the healthcare industry. Everything that's new in the healthcare space requires validation from patients and healthcare providers for adoption—the primary objective was for investors to understand what our process was going to be to obtain that validation.
It really allowed us to do the softer things – the human factors, the industrial design. People are going to be using this product—we're focusing on how we approach the user experience, and making it part of the design process. We're thinking about what it would look like, and how it would be used by a patient, nurse or doctor and incorporating these features into our device.

What tips do you have for this year's BCIC-New Ventures competitors?
The biggest thing is don't rush the various submissions throughout the competition. You have to start with some basic concepts and give yourself some time to think through it. If it's a new business, try to get as much feedback from outsiders as you can—people whom you trust and who have good business judgment. We took all the time we possibly could to put together the information and to get others to poke holes in the plan.
Create a credible business case in a way that investors can understand. Simplify your message if it's really complex—people need to understand the concept in layman's terms—don't make it too technical. Focus the elevator pitch (opening statement) on a compelling theme: what do you do that nobody can do or has done?
Think big and generate crazy ideas, because this is where breakthroughs are generated. The world is a big place – what attracted me to Microdermics is the opportunity to impact the lives of 8 billion people—everyone on this planet will need a vaccination sometime in their life and my goal is to touch everyone with our product. How will you define the impact that your company is likely to make?
Understand marketing too – if you're going to say what you do to somebody, can describe why it's special in a single phrase? You should make this the basis for your application: can you visualize the business that you want to become?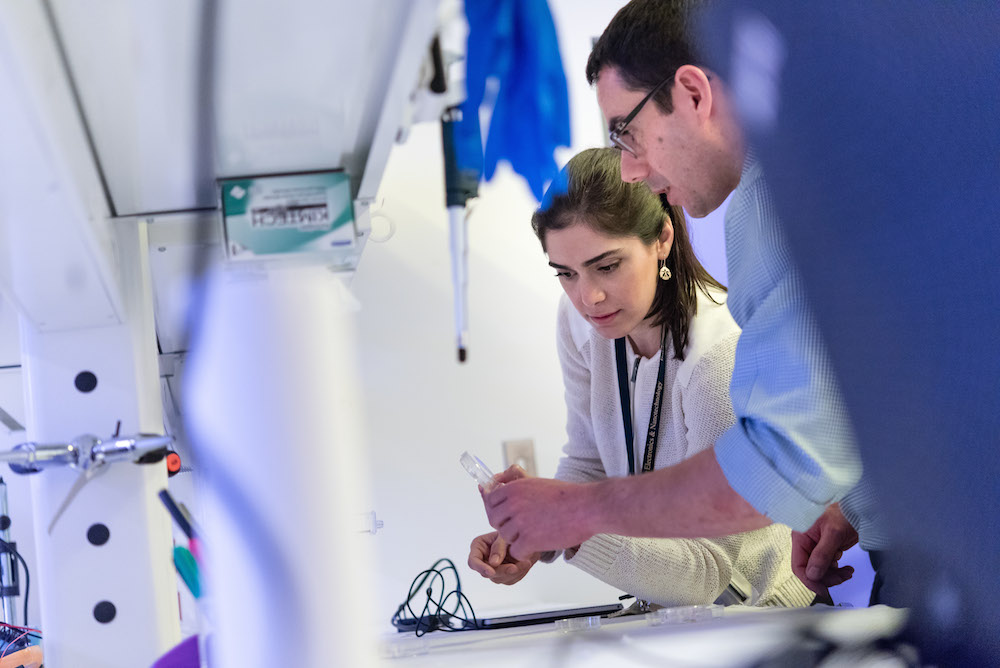 Any other comments you'd like to share?
We're doing our best to contribute to the growth of the life sciences community in Vancouver. The more that we can do to help build awareness of the benefits of starting a medical device company in Vancouver, the more talent we will be able to attract to the region and help build the employment base.

Microdermics was the 2016 winner of the BCIC First Prize Package and the CDRD Life Sciences In Kind Prize.
The $110,000 BCIC First Prize package includes $80,000 cash from BCIC, complimentary access to the BCIC Venture Acceleration Program for one year, plus in Kind Services from Ernst & Young, Fasken Martineau DuMoulin, pushr video and NVBC's bronze sponsors.
The CDRD $10,000 Life Sciences in Kind Prize is awarded to the top-placing life science company. Winner receives business and/or Scientific (i.e. technology development) consulting from the Centre for Drug Research and Development (CDRD).