We asked last year's top 3 prize winners for some insight into their motives for entering the competition, what they took away from the experience, and some key tips for 2016's participant ventures. Thank you Edvisor for sharing your experience!

New Ventures BC: To start, give a brief description of your startup and what you offer as a product/service. How were you inspired to come up with the concept?
Nicolas Miller – CEO, Edvisor: Edvisor is an online platform that connects schools that recruit international students directly with the agencies that sell their courses abroad.  Our platform is intended for schools to manage their products and services and entry requirements so that agents can access current program information and enrol their students directly.
NVBC: Describe what stage your startup was at when you entered the BCIC-New Ventures Competition. Did you expect at the time of registration to compete for the top prizes?
NM: When we entered, we were a team of 7 and we'd been operating for 9 months.  We had no idea we'd win in the end.  We had a lot of confidence in our business, but we figured companies with existing or provisional patents would have the advantage.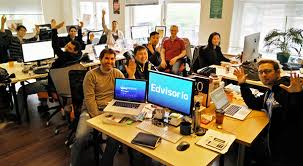 NVBC: How have you used your prize money and services?
NM: We've used the prize money to hire new developers, some new equipment, snacks, and a standing desk.  We've also set some aside for a team trip planned for later this year.
NVBC: Any updates or successes you can share since completing the Competition?
NM: We've grown to a team of 15 and we closed a $1.25M Seed round (during the competition), but perhaps, most importantly, we've significantly upped our ping-pong game. 😛

NVBC: What tips do you have for this year's crop of BCIC-New Ventures participants
NM: Approach the competition as an opportunity to learn and don't worry too much about the prize money. There are many great startups, so the odds are low. Focus on learning and improving your business and if you win a prize along the way, it'll be a nice bonus.
Engage your mentors.  Set-up a regular meeting schedule, once every 2 weeks if you can.  When you do meet, respect their time—make sure you're organized and have thought through the topics you'd like to discuss.  If you're not able to engage them, switch mentors.  They are the key to the competition.  We were lucky to have some of the best in the business—thanks Colin Farrell and Paul Koros!