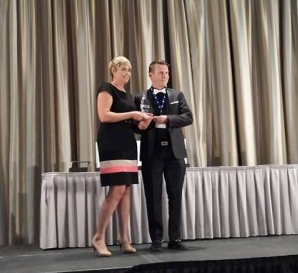 Three time competitor Tait Labs is on a roll.
Founder Dr. Andrew Tait has been receiving some great media coverage of late and on June 12th was honored with the BC Food Processors Association 2014 "Rising Star" Award.
The award is given to a person whose member company is less than 10 years in the industry, an innovator, contributes to the industry and community, shows leadership and is a role model.
Previous notable winners of the Rising Star Award include Vikram Vij (2011) of Vij's and Charles Chang (2012) of Vega.
Founded in February 2011, Tait Laboratories endeavours to identify remedies based on traditional medicine and develop therapeutic solutions by enhancing their chemical and biological profiles using nature-inspired techniques.
Tait Labs was a competitor in 2011, 2013, and 2014.