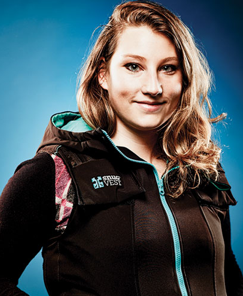 2012 Competition alumni Lisa Fraser of Squeezease Therapy has been named to the 2014 BCBusiness 30 Under 30 List.
The list celebrates B.C.'s young guns who excel in their respective industries, give back to their community and planet and who will lead business in this province for years to come.
Squeezease Therapy specializes in wearable Deep Pressure Therapy devices for children with sensory and anxiety disorders such as autism and ADHD. Applying pressure to the body has a relaxing effect as it activates the parasympathetic nervous system to reduce adrenalin and cortisol, indicators of stress.
"I never really thought of myself as an entrepreneur when I was going to art school," Lisa Fraser says. Her business, Squeezease Therapy Inc., began with an insight she had while teaching special needs children to swim: hugs help. For her final project at Emily Carr University of Art and Design, she designed the Snug Vest, a therapeutic garment that inflates to provide pressure, like a hug. Derived from a practice called "deep pressure therapy," it has a proven calming effect on children with autism, ADHD, and sensory disorders. She had never planned to commercialize the Snug Vest after graduating, but the positive feedback convinced her there was demand. She even got an encouraging email from TED Talk star and autism hero Temple Grandin, who had been an early inspiration. The boosters were right: in her first year of business, 2013, she shipped about 400 units, and she has plans to expand in 2014. – David Godsall
Congrats to Lisa!