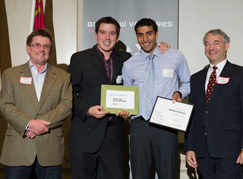 Since winning the BCIC New Ventures Competition in September 2010, Hiretheworld.com has grown from a kitchen-table enterprise with three employees to new office space in Vancouver's Gastown for 18 employees.
Hiretheworld.com is a global service marketplace where businesses and individuals can hire, manage and pay remote freelancers or teams.
The company started up with a graphic design contest in which employers can solicit design ideas from around the world and pay for the one they like best.
Today, hiretheworld has expanded the concept to include an idea contest for generating creative writing solutions, a video contest, a viral video contest that generates social media analytics, and an employment platform where customers can hire individual experts from around the globe.
Co-founder Terry Beech says the employment platform grew out of employers' interest in hiring the winners of their contests for further jobs. Hiretheworld.com's top logo designer, for example, lives in Tunisia. After winning many of the design contests, he has built up an impressive portfolio and is in demand from employers all over the world.
"We handle all of the payment issues so that employers don't have to worry about how to pay someone in Tunisia or India," says Beech. "We also have a new hourly monitoring software that allows you to hire a workforce abroad and monitor them passively as if they're working in your office." The software tracks mouse clicks and web browsing and also takes random screenshots that track a remote worker's time on the computer.
"What has motivated this company from the get-go is that we want people to be able to work from wherever they are with no geographical barriers," says Beech. "As long as you have an Internet connection you should have access to the same opportunities as everybody else. Your quality of life shouldn't be based on where you were born."
Over the past year, Hiretheworld.com has raised $500,000 in a seed round of investment with Oxford University and Nicholas James Corporation of Vancouver.
"For the first six months after closing our initial round we were highly focused on development," says Beech. "We are now in the process of ramping up our sales and marketing and are looking to gain further traction going into a series A growth round."
Beech says sales in the first quarter of 2011 surpassed sales for all of 2010.