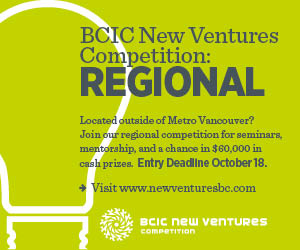 Attention technology startups located outside metro Vancouver: Invest $100 in your technology business idea and learn how to develop it into a profitable company.
Like the established New Ventures BC provincial competition – now celebrating its 10th anniversary – the BCIC-New Ventures Competition: Regional (BCIC-NVC: Regional) offers technology companies located outside Metro Vancouver, valuable networking and learning opportunities, only on a smaller scale.
Competitors in the BCIC-NVC: Regional will walk away with:
Incredible learnings from some of BC's best business experts through the program's business-education seminars
Valuable networking opportunities with top professionals from business, law, finance, government and academia
The knowledge to refine and improve business strategies through each round of competition
One-on-one meetings with mentors for direct feedback and advice
Experience pitching your business to a panel of experts
"This new competition will provide an excellent opportunity for participants to take advantage of education and mentorship designed for a companies outside Metro Vancouver," says BCIC New Ventures Competition Executive Director, Bob de Wit.
BCIC is the title sponsor and lead partner for the competition. "I highly encourage technology companies in the regions to take advantage of this extraordinary learning opportunity, even utilizing it as a lead-in to entering the larger province-wide BCIC New Ventures Competition in 2011, which offers $300,000 in prizes," says Dean Rockwell, CEO of BCIC and Board Member for the BCIC New Ventures Competition
This 'Boot Camp for Business Startups' offers $60,000 in prizing, including the $30,000 BCIC First Prize, $20,000 BCIC Second Prize and $10,000 BCIC Third Prize. The competition is open to any BC person, resident or business located outside of Metro Vancouver with a technology-focused idea that has not yet secured significant financing from external investors (i.e. investors other than friends, family and company founders).
Program seminars will take place in Kelowna and Victoria beginning October 5th. Applications are being accepted until Monday, October 18th.