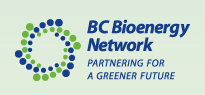 Since 2008, the BC Bioenergy Network's Director of Research, Dr. Scott Stanners, has participated in NVBC as a judge and mentor. Dr. Stanners was so impressed with the program that he convinced his board of directors that the BC Bioenergy Network should become a Gold Sponsor and provide a Bioenergy prize.
"Partnering with NVBC is a win-win situation," says Dr. Stanners.  "Competitors benefit from our network of support and we further our goal of developing and demonstrating new environmentally sustainable bioenergy technologies in B.C."
The BC Bioenergy Network is a not-for-profit association that invests in B.C.'s bioenergy sector. The organization's goal is to maximize the value of B.C.'s biomass, which includes forestry, agricultural and municipal residues.
"We fund pilot and demonstration-stage bioenergy projects as well as mission-driven research in the bioenergy sector, leveraging the tremendous post-secondary research capacity in the province," says Dr. Stanners. "The NVBC competition provides an avenue of support for early-stage bioenergy companies."
In 2009, the BC Bioenergy Network sponsored its first $20,000 cash prize and is looking forward to this year's bioenergy prize winner. Last year's winner was Bluekey Energy of Prince George, which has developed a one-step technology to convert waste from the pulping process into biodiesel fuel.
"We have been providing Bluekey Energy with strategic guidance and contacts through our network," says Dr. Stanners. "Their technology has enormous worldwide potential for increasing revenue in the pulp and paper sector."
Dr. Stanners says the BC Bioenergy Network's resources, contacts and advice can be very useful to new bioenergy startups. For example, companies that have a need for high-quality research can access postgraduate students through the network's Consortium Partnership with the MITACS Accelerate program.  For more information, contact Dr. Stanners at Scott.Stanners@bcbioenergy.ca.