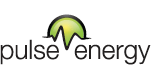 Energy management software company Pulse Energy – a subsidiary of 2008 NVBC Competitor Small Energy Group –  joined BC Premier Gordon Campbell last week to announce that the BC Government will be contributing $2.4 Million to commercialize energy management software through the Innovative Clean Energy Fund.
The ICE Fund Consortium, led by Pulse Energy, includes a number of partners. Three off-grid coastal communities (Hartley Bay, Hesquiaht, and Haida Gwaii) will participate in energy-saving projects that will reduce emissions from diesel generators and save money on fuel costs. The Village of Hartley Bay will also be installing the first Smart Grid of its kind in Canada. Two on-grid rural communities, Nanaimo and Prince George, will deploy leading-edge energy management technology in 20 buildings each. Across all five communities, the project will create significant energy and cost savings on an ongoing basis.
"Premier Campbell has taken important steps to develop BC's clean tech sector, notably with the ICE Fund and his decision to put a price on carbon emissions," said Pulse Energy co-founder David Helliwell. "We have celebrated the happy news that our project has been approved by hiring a new employee, and we plan to hire at least another 25 over the course of this 2-year ICE Fund project."
Pulse Energy is a subsidiary of West Vancouver's Small Energy Group, and its Pulse energy management software helps buildings reduce energy consumption by 5-25% through the improved collection, analysis, and communication of energy information.