By aggregating the management of building-level energy consumption and production, West Vancouver's Small Energy Group delivers economic benefits to building managers by reducing energy use and demand charges. In turn, by making better use of existing infrastructure, the Small Energy Group helps to avoid the construction of unnecessary generation and transmission capacity, saving money for utilities and helping the environment.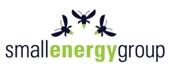 Small Energy Group's Energy Management Software communicates with a large number of building automation and metering systems to collect, archive, analyze and communicate energy information. Whether it's saving money by quickly identifying and resolving inefficient energy use or helping building occupants to learn how their buildings perform, the Small Energy Group's software helps owners and operators of commercial and institutional buildings to save money and reduce emissions.
Small Energy Group isn't new to award finals – the were a finalist for BCTIA's 2008 Technology Impact Awards in May in the Most Promising Start-Up category.
Check out Global TV's coverage of Earth Hour which includes an interview with Small Energy Group Co-founder David Helliwell interview below.