RFind, the 2006 BC Hydro first-prize winner, continues to innovate in the field of real time inventory tracking.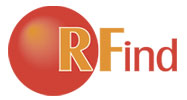 RFind uses active radio frequency identification (RFID) and patented software to create real-time locating systems for manufacturing and warehousing facilities and open yards. Instead of having to manually record inventory, an RFID reader can wirelessly scan all nearby tags instantly.
It can also be used to determine the exact location of a single item within a warehouse. RFind produces unique RFID tags that are reusable and capable of communicating between tags, reducing the need for reader infrastructure. RFID has been quickly adopted by many industries; Walmart, for one, in their constant pursuit of supply chain efficiency, is now requiring RFID tags in all it's supplier shipments.
Rocket Builders listed RFind on 2007's Ready to Rocket "Ones to Watch" list, which identifies companies positioned for future growth.
"I am thrilled with our participation in New Ventures BC," said Barnes. "It has been one of the most satisfying relationships of RFind's existence. We were able to derive a lot of value from the experience that has had a significant impact on the overall development of the organization."
RFind is based in Kelowna, with a European office in Brussels.