Ecoation Innovative Solutions pinpoints crop stress at the earliest stage before damage is visible. Ecoation's early detection system for pests, diseases and deficiencies provide advance warning to growers, enabling them to target or reduce pesticide use, while increasing the efficacy of biological control agents and minimizing crop loss.
"We respect food and the food producers. They are the most important people on the face of the planet." – Dr. Saber Miresmailli, Co-Founder and CEO of Ecoation
BC Greenhouse farmers lose around $7 per square meter per year due to pests and diseases. What if we could halve that amount, with minimal use of pesticides? With the aid of automated robotic technology, Ecoation is aiming to do just that.
"We collect novel data on plant state, and use proprietary AI software to predict crop health," comments Dr. Saber Miresmailli, Co-Founder and CEO of Ecoation. "Our innovative system brings crop status to a grower's desktop or smartphone daily–allowing growers to adjust as necessary to shifting conditions," he says.
Inspired by plant signalling research at UBC
Ecoation Innovative Solutions draws on Dr. Miresmaillis' 12+ years of studying plant signals at UBC. His intricate knowledge of how plants defend themselves against incoming invaders, combined with his passion for food health, eventually blossomed into the startup in 2010, with his wife and Co-Founder, Maryam Antikchi.
The most pressing question faced? The use of pesticides. They wondered–how could they be used more effectively? And if damage could be caught early enough, would they be needed at all?
"Plants undergo physiological changes–they express stress and damage through signals, before their stress symptoms becomes visual," comments Dr. Miresmailli. "We realized if farmers could accurately interpret this data, they could limit pesticides, increase biocontrol agents success, and save their crops," he says.
Ecoation has implemented their solution for greenhouse growers in BC, and is in the process of launching trials in California, and Texas. Like many startup CEOs, Dr. Miresmailli's biggest feeling of accomplishment is seeing his customer enthusiastic about his solution.
"Earlier this year, I was able to tell a grower exactly which one of his plants had a 'crazy root' problem. That was one of my proudest moments–the tech worked, and I saw appreciation in the eyes of my customer," he comments.
"We're also excited that we recently secured a seed round of financing to launch commercialization. Our amazing team has grown to 15, and soon we'll add five more."
When asking Dr. Miresmailli about his first ever job, and how it inspired his success today, he recalled helping his grandfather at his carpentry shop, at age 13.
"My Grandfather created tools to carve contours and designs into wooden furniture. He envisioned how each tool would put a specific mark on the wood. I appreciated that multilayer thinking. I learned form him to visualize what it means to build something–to see something in the future that doesn't yet exist.
"He taught me how to make that possible."
About Ecoation Innovative Solutions: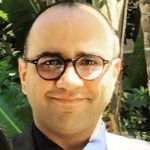 Dr. Saber Miresmailli, Co-Founder and CEO
Dr. Miresmailli holds a PhD in Chemical Ecology from the University of British Columbia, and an MSc. in Plant Science. Prior to heading Ecoation Innovative Solutions, he was a BioScience Advisor for Sustainability Television, and Executive Science Officer in New York. He is currently a Member at the BC Minister of Agricultural Advisory Council, and a Member of the United Nations Climate Technology Centre and Network. Dr. Miresmailli collaborated on projects funded by the Bill and Melinda Gates foundation in West Africa. He received IAFBC Award of Excellence in Innovation in Agriculture, North Vancouver Chamber of Commerce Award of Excellence in Innovation and he is the winner of the BC Tech Summit AgTech Challange. .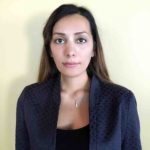 Maryam Antikchi, Co-Founder and CTO
Maryam holds a BSc. in Engineering physics from the University of British Columbia. Prior to Co-Founding Ecoation Innovative Solutions, she worked as a professional software and application engineer for a number of companies, including Sierra Wireless. She is an expert at end-to-end system implementation from hardware, to
web application, data accusation, databases, and running data pipelines for complex
machine learning and automation.