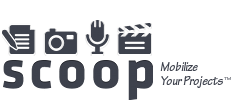 Scoop provides field workers and managers a novel way to capture and collaborate on issues in real time using prescribed fields, pictures, video, voice and on-screen markups.
Its suite of mobile and web apps allows workers to easily record issues, inspections, and observations in real time and alert the best people to discuss and track these to resolution.   Scoop offers managers dashboards and analytics to measure progress, spot trends and take proactive action to squelch emerging issues and hazards.
With its unique design philosophy Scoop pioneers a new approach to boosting safety, quality and productivity rooted in enterprise-wide Mobile Awareness and Engagement (MAE).